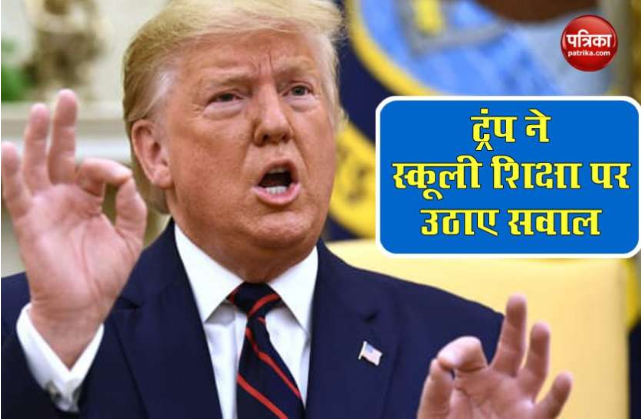 Trump had blamed leftist ideology for the agitating movement since the death of George Floyd.
He attributed this to Antifa, who believed in the left-wing ideology behind the violence.
Washington. US President Donald Trump has questioned the education system of American schools. He said that the spirit of the radical left is being taught in many schools in America. Trump had blamed leftist ideology for the aggravated movement since the death of George Floyd, a black citizen in Minneapolis, USA. He had said that Antifa, following the ideology of the Left, is working behind this violence.




Trump did this tweet
Trump said in his tweet that many universities and schooling are spreading radical left sentiment. Therefore, they have asked the Treasury Department to re-examine their tax-exempt status or funding. Funding should be banned from anyone who is promoting this ideology. Our children should be educated, not motivated.
Also Read: What exactly do the 3 trusts of the Gandhi family being investigated? Learn the whole matter ..




What is antifa
Actually, people opposed to fascism in America are called Antifa (anti-fascists). In the US, the Antifa movement is used for militant and anti-fascist movements. These people are against neo-Nazi, neo-fascism, white superiority and apartheid. People associated with this movement usually hold peaceful demonstrations. However, they resort to violence during protests.




When did this organization
Antifa is said to have been formed in the 1920s and 1930s in opposition to European fascists. However, experts who monitor Antifa's activities say that the movement began in the 1980s with a group called Anti-Racist Action. By 2000, the movement was very sluggish but it has been reactivated since President Donald Trump took office.