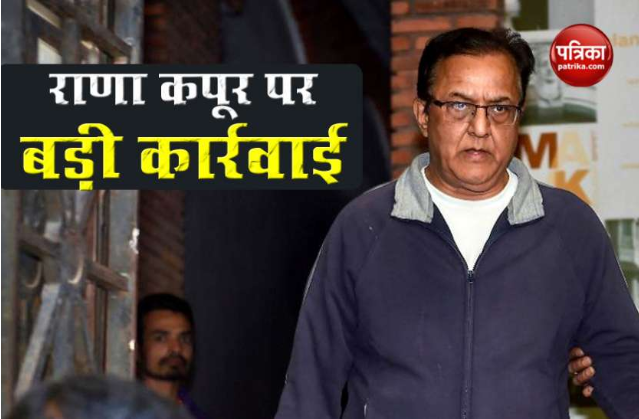 Attached assets worth Rs 2,203 crore to Rana Kapoor, DFHL promoters and others
ED took this action on Thursday in the Rs 3,700 crore fraud case

new Delhi. 2,203 crore from Yes Bank founder Rana Kapoor, his family, Dewan Housing Finance Ltd promoters and others under Yes Money founder Rana Kapoor under the Money Laundering Act under the Enforcement Directorate. The property worth Rs. According to officials, the Financial Investigation Agency has taken this action in the Rs 3,700 crore fraud case on Thursday. Earlier, the ED had filed Kapoor, his daughter and promoter of Doit Urban Ventures (India) Roshni Kapoor, Kapil R. of DHFL. Wadhawan, Dheeraj R. A charge sheet was filed against Wadhawan and other entities, Bailiff Realtors and RKW Developers. Some of Kapoor's foreign assets have also been frozen by the agency.





Also Read: Zoom App will make big investment in India, many people will get jobs

The action was filed after the chargesheet was filed in March by the Central Bureau of Investigation following a case filed by the Central Bureau of Investigation under various laws, including the Prevention of Corruption Act on accused and ignorant entities facing fraudulent charges against the bank. On March 9, the CBI searched the premises of the accused. On May 8, two months after Kapoor's arrest, the ED had also filed a separate charge sheet before the special court in Mumbai in early May.





DHFL is also
separately investigating the ED on allegations of payment of Rs 600 crore to a company controlled by Kapoor and his family by a firm linked to tainted DHFL in the tainted scam. DHFL founders Kapil Wadhawan and Dheeraj Wadhavan were arrested by the CBI from Mahabaleshwar, a hill station, in the same case in April. They were absconding since the investigation began.

CBI charges
CBI alleges that Yes Bank invested Rs 3,700 crore in short-term debentures in DHFL, for which Vadhavans paid Rs 600 crore to Kapoor as a loan to Doit Urban Ventures, owned by Kapoor's daughter. . The ED alleges that Kapoor and his family members and others took bribes to pay large loans through the bank.