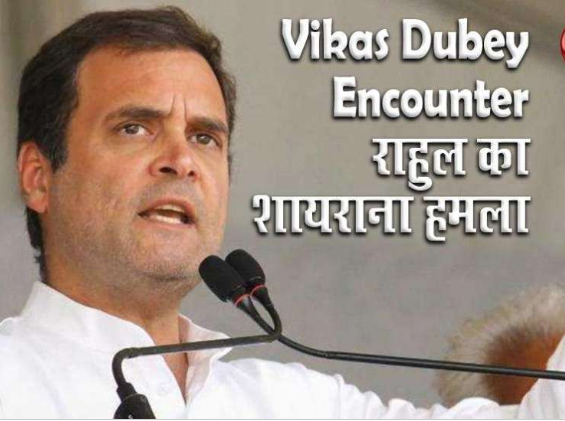 Opposition parties raise questions on Vikas Dubey Encounter
Rahul Gandhi attacked the government in a shaire style
new Delhi. Gangster Vikas Dubey, the main accused in the Kanpur Encounter case in Kanpur, Uttar Pradesh, has been killed in a police encounter (Kanpur Encounter) in Kanpur on Friday. The politics from UP to Delhi has warmed up with all the questions arising about this encounter (Encounter). Former Congress President Rahul Gandhi has questioned the government about Vikas Dubey Encounter. During this time, Rahul Gandhi attacked him without taking the name of the BJP government in the form of Shireana. Rahul wrote in his tweet that … many answers are good, silence is unknown to him; However, Rahul Gandhi did not even openly mention the encounter in the tweet, but his signal was on the same side.




Let me tell you that the opposition parties have made many allegations regarding the Vikas Dubey encounter. Opposition leaders allege that during the interrogation of Vikas Dubey, the names of several political and police bosses who had supported him, could be revealed, due to which he was confronted with an encounter. Now with the killing of Vikas Dubey, the whole matter has become a hush.
Also Read: Scandal-Hit Punjab National Bank Reports $492 Million Fraud




Earlier, Congress General Secretary Priyanka Gandhi Vadra also raised many questions regarding the Vikas Dubey encounter. He said that if the culprit is finished, what will happen to those giving protection? Priyanka Gandhi has raised questions about the death of notorious criminal Vikas Dubey during the encounter through Twitter. He said that "the culprit is over, what will happen to the crime and the people who protect it" proved to be.




At the same time, former Uttar Pradesh Chief Minister and Bahujan Samaj Party chief Mayawati has also demanded an inquiry into the matter. The BSP supremo said that regarding this Bahujan Samaj Party (BSP) national president Mayawati has said that the whole matter should be investigated in the Supreme Court. BSP chief Mayawati said through Twitter that all the cases of overturning of police car and killing of her by UP police while fleeing from Kanpur to Kanpur, along with its main accused Durdant Vikas Dubey That there should be a fair inquiry under the supervision of the Honorable Supreme Court.