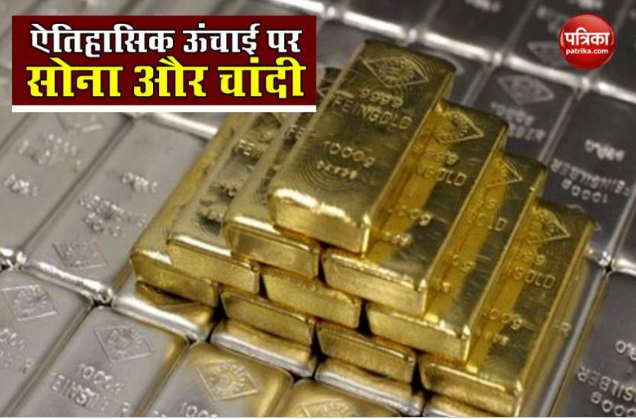 Gold price rises in Indian market; Silver price rises by 2%
Gold and silver reached nearly 9-year high on foreign market Comex
new Delhi. Corona virus ( Coronavirus come on) the growing outbreak and Economy (Economy) consecutive gold and silver historical levels due to the decline in (Gold And Silver Price at Historical Level ). Where gold abroad (Gold Price Today) has crossed the 9-year high of $ 1800 per ounce. At the same time, the silver price today has gone beyond $ 19 an ons. At the same time, the gold rate in the Indian futures market (Gold Rate Today) has crossed 49 thousand for the first time. At the same time, the new high level has also been seen in the price of silver. According to experts, the price of gold can touch the level of 52 to 55 thousand till Diwali. The number of cases of corona virus is increasing continuously and the economy is continuously declining. Because of which the investor is considering gold as a safe investment.




Tremendous rise in gold and silver in overseas market
– Gold and silver have reached a historic 9-year high in New York's Comex market.
According to the latest data, gold in New York's Comex market has risen by $ 10 an ons to $ 1820 per ons.
– While the price of silver on Comex is trading at around $ 19.05 an ounce with a gain of about 2 percent.
In the European market, gold is trading at around 1600 Euro per ons with a gain of about 6 Euro.
– The price of Chandi is trading at 16.45 Euro.
– In the London market, gold is trading up by £ 7 per ons to 1440 pounds per ons.
– The price of silver is trading up 2 per cent at 15 pounds per ons.




Gold in Indian futures market to record high
– Due to the boom in foreign markets, gold has reached a record high in Indian futures market.
Talking about the price of gold, today in the trading session, gold came to a historic level of Rs 49348 per 10 ten grams.
– Today, gold opened at Rs 48704 per 19 grams.
On the other hand, gold had closed at Rs 48800 per ten gram on Tuesday night.
Gold was trading at Rs 49120 per ten grams with a gain of Rs 320 on Wednesday night at 7.45 pm.
Also Read: Dispute over cuts in Syllabus, CBSE gave direct reply




Silver has also reached a new level
– on the other hand, silver prices are also seeing tremendous rise.
Today, the price of silver has crossed the level of 51 thousand and reached the highest level of Rs. 51440 per kg.
– whereas today silver was opened at Rs 50240 per kg.
– While silver closed at Rs 30202 per kg on Tuesday night.
– Silver was trading at Rs 51081 per kg with a gain of Rs 878 per kg on Wednesday night at 9.5 pm.




What is knowledgeable?
According to Anuj Gupta, Deputy Director, Commodity and Research, Angel Broking, there are increasing cases of corona virus. Cases of corona virus are continuously increasing in India and abroad. The effect of which is being seen in the global economy. According to the latest IMF report, a further decline in the global economy is expected. Which is supporting the prices of gold and silver. According to Anuj Gupta, gold and silver prices may see a further rise in the coming days.