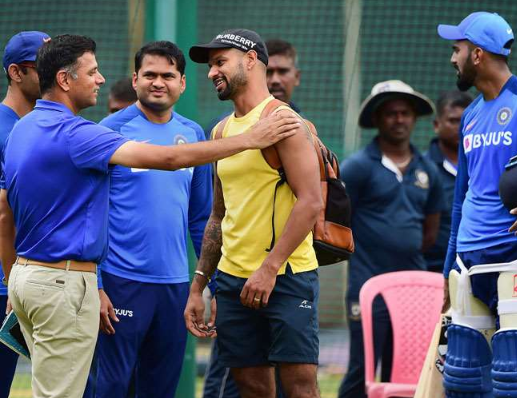 New Delhi, IANS. The current head of the Board of Control for Cricket in India, BCCI, is Sourav Ganguly. Prior to Sourav Ganguly and his new team, the reins of Indian cricket were held by the Committee of Administrators, ie COA, headed by Vinod Rai. Vinod Rai has now made a big reveal. He has said that Rahul Dravid was approached to become the head coach of the Indian team, but he turned down the offer due to family time.
Indeed, Vinod Rai wished to take over Rahul Dravid's post after Anil Kumble's tenure as the Indian team's coach ended in 2017 following differences with captain Virat Kohli, but Rahul Dravid who was already the coach's As he was working for India A and Under 19 team, he turned down the offer. Talking to Sportskeeper, Vinod Rai has said, "Rahul did not support us."




He has said, "Rahul said that look, two boys are growing up at my house and I am traveling with the Indian team all over the world and I am not able to give them time and attention, I think That I should also stay at home and give time to my family. I think it was a very reasonable request and that time would have been top of mind. So, he was very much in the field of thought. "
Rai further revealed that Dravid wanted to continue working with the India A and Under 19 teams, as he was producing excellent results for them. After Dravid was ousted and Kumble's tenure came to an abrupt end, the post of head coach eventually passed on to Ravi Shastri. However, Rai feels that the end result was a win-win situation for all, as the COA believed that all three would be good choices as India's head coach.
Also Read: Betel killer killed only betel nut, big disclosure in Mahant Rambhaj murder case




Vinod Rai has said, "Look, Dravid, Shastri and Kumble are the best in terms of ability for coaching. We did talk to Rahul. He was associated with the under-19 team and he was involved with him . He had prepared a road map for the development of the team. He was bringing great results. He wanted to continue, because he felt there was some unfinished work with that team and he wanted to do it. "
Former captain of the Indian team Rahul Dravid was appointed the head of the National Cricket Academy i.e. NCA last year. Rai has revealed that the former Indian batsman was more than happy to accept the role. He said, "Dravid is the head coach of NCA. He said that he was very kind in accepting and committing himself to the NCA, because he has a home nearby and he can take care of the children."