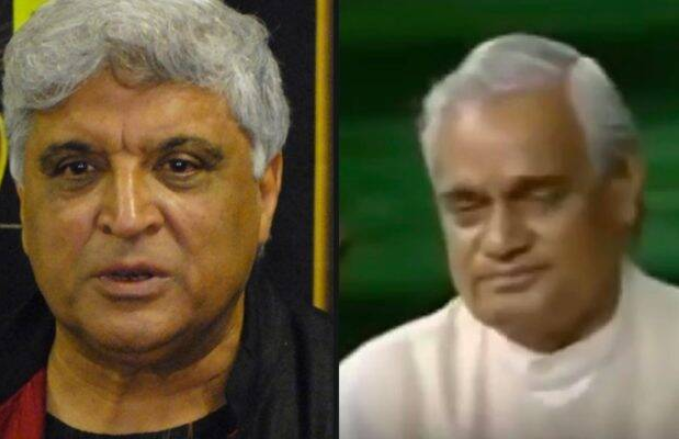 In the video that Javed Akhtar shared, former Prime Minister Atal Bihari Vajpayee is seen giving speeches.
Javed Akhtar: Bollywood lyricist Javed Akhtar is known for his opinions on social media. Due to this, many times they have to face criticism and trolling. The latest case relates to an old video by former Prime Minister Atal Bihari Vajpayee. This video was previously shared by historian Ramchandra Guha. Later Javed Akhtar also retweeted it. After this, he came under target of trolls.
In the video that Javed Akhtar shared, former Prime Minister Atal Bihari Vajpayee is seen giving speeches. Speaking in Parliament, he shares an anecdote related to Pandit Jawaharlal Nehru, how he used to take his criticism as positive. Not only this, but for this they also gave them praise. In the video, Atal Bihari Vajpayee says – 'Friends of Congress may not trust, there used to be a picture of Nehru in South Block. I used to see coming. There was a tip in the house with Nehru ji, I was new then, I used to sit back.




Sometimes I had to walk out to speak. But slowly I made space and I moved forward. ' Atal Bihari Vajpayee appears further in the video – 'One day when I became the foreign minister, I saw that the portrait of Nehru is not in that place, I asked where did that picture go? No answer was given. That picture was put there again. Does this feeling matter? It is not that there were no differences with Nehru.
He further says- 'Differences used to emerge in serious form in discussion. I once told Panditji that you have a mixed personality. But he did not get angry. I met him again in the evening. In which he said that today he gave a strong speech and went away laughing. Nowadays such criticism is to feast hostility.
Also Read: Bhojpuri star Pawan Singh's 'Ghatak' trailer rules YouTube, fans are elated
This video shared by Javed Akhtar reacted to many people and surrounded them. Many users heard Javed Akhtar reminding them of old remarks made by Sonia Gandhi on Vajpayee. A user shared the old statement of Sonia Gandhi flaming Javed Akhtar and wrote, 'Sonia Gandhi had asked for Vajpayee ji -' Atal ji speaks the same whenever he loses his mental temper and gives such a statement . This is proof for you what you did to Atal ji.




Many users wrote, when Atal ji was PM, then you people criticized him a lot and today only people like you are highlighting his speech. Another user wrote, when Amit Shah will become PM in future, then people like you will write Modi's speech and share the same. At the same time, many users also appeared to support Javed Akhtar. He wrote that where is this politics now. Now criticism is seen from the perspective of hostility. That era ended with Atal ji.