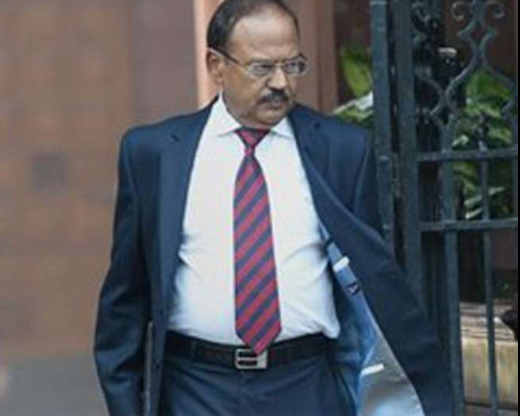 New Delhi, ANI. National Security Advisor (NSA) Ajit Doval held talks with Chinese Foreign Minister Wang Yi on Sunday amidst ongoing tension in India and China along the border. It is being told that the result of talks with Doval is that the Chinese Army has retreated today in Galvan Valley near the Line of Actual Control (LAC). Sources say that the talks took place in a cordial and farsighted manner. NSA Doval and Chinese Foreign Minister Wang Yi's talks focused on working together to bring peace back fully and permanently and to avoid such incidents in the future.   
Significantly, Doval is already active on the Ladakh crisis and he also keeps an eye on every action of China. It is said that Prime Minister Narendra Modi's sudden plan to go to Ladakh was part of Doval's strategy. Due to Doval's plan, no one was aware of it. On the other hand, the way India responded to it aggressively after the Chinese infiltration attempt is also said to be the strategy of Doval. According to the news agency ANI, sources in the Indian Army said that there was a mutual agreement between the two sides to retreat into the eastern Ladakh region. This includes Patrolling Point 14 (Galvan Valley), PP-15, Hot Springs and Finger Area.




Negotiations seriously on recent developments- Ministry of External Affairs
NSA Ajit Doval and Chinese Foreign Minister Wang Yi held a telephonic conversation yesterday over recent developments in the western region of the India-China border areas. In this regard, they further agreed that the two sides should expedite the ongoing retreat on LAC. Both sides must ensure a phased retreat at the border. It was also agreed that NSA Ajit Doval and Chinese Foreign Minister Wang Yi will continue their negotiations to ensure permanent restoration of peace in the India-China border areas as per bilateral agreement and protocol.
Also Read: Bigg Boos fame Himanshi Khurana's car attacked, actress said – I am not afraid of childish antics




Both sides should strictly respect LAC 
According to the Foreign Ministry, both confirmed that both sides should strictly respect the LAC and not take unilateral action to change the status quo. One must work together to avoid any future event which is necessary for peace in the border areas.
Chinese Foreign Ministry statement
According to the news agency ANI quoting the Chinese government mouthpiece Global Times, Chinese Foreign Ministry Spokesperson Zhao Lijian said that after talks between India and China on June 30 at the third commander level, the two countries were engaged in troops in the border areas Are taking effective steps to reverse and reduce their numbers.