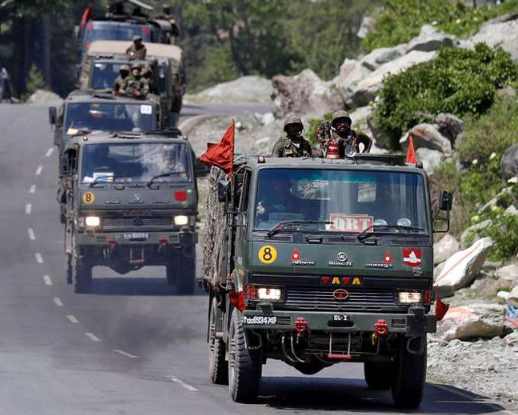 Leh, IANS About 30,000 personnel have been deployed by the Indian Army in Ladakh amid continuing escalation with China on the Line of Actual Control (LoC). India has deployed three additional brigades after violent clashes between the soldiers of both the countries last month. Highly placed sources told IANS that normally six brigades, ie two divisions, are stationed at LAC in Ladakh. Soldiers are deployed here on rotation basis.
The army has deployed three additional brigades after the violent clashes on 15 June. Each brigade has about 3,000 soldiers and auxiliaries. In a clash with Chinese soldiers, 20 Indian soldiers, including a commander, were killed and more than 70 soldiers were injured. Sources said that about 10,000 soldiers from three additional brigades have been brought in from Punjab, Himachal Pradesh and Uttar Pradesh. There are currently 3 divisions of the Army under 14 Corps Command on LAC. It is the largest army corps in India, established in 1962 during the war with China.
Sources said that some para-special forces, which played a key role in the 2017 surgical strike against Pakistan, have also been sent to Ladakh. Indian paratroopers paramilitary forces come from more than a dozen Special Forces regiments, trained in high-risk operations in extremely difficult areas. Similarly, five battalions of Ladakh Scouts and one infantry regiment of the army have been kept ready for support in mountain warfare.




Also Read: 'I am sure Rahul Gandhi must have passed the exam by cheating as well', Ashok Pandit, furious over Congress leader's non-attendance at Standing Committee meetings
Sources said that the Indian Army has been increasing its deployment since the violent clashes in the Galvan Valley. Under this, M-777 ultra-light howitzer cannons have been installed. At the same time, the Air Force has prepared its own transport aircraft, the C-17 Globemaster III, which can be used to airlift troops, carry heavy tanks such as army vehicles and T-72 / T-90 tanks. The Indian Army is ready to respond to any Chinese action with Russian Sukhoi-30 fighter jets, MiG-29 jets, Illushin-76 heavy-lift planes, N-32 transport aircraft, Mi-17 utility helicopters.




At the same time, the Navy's P-8I aircraft is generally used for maritime patrol, which is being used to monitor high altitude areas in Ladakh. P-8I aircraft were also deployed for surveillance during the India-China standoff in 2017. Sources said the Indian Army is using the indigenous medium-range surface-to-air Akash missile developed by the Defense Research and Development Organization (DRDO).