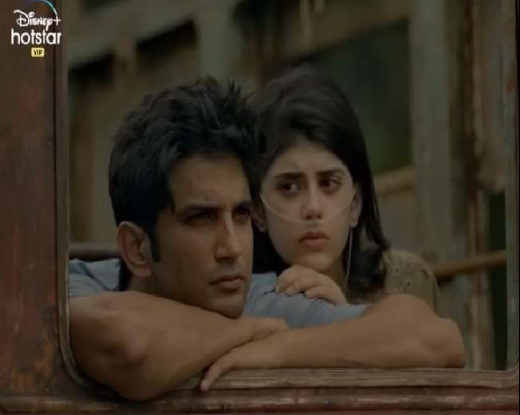 New Delhi Dil Bechara Trailer: The trailer of Sushant Singh Rajput's last film 'Dil Bechara' has been released. Sushant's fans were eagerly awaiting the trailer of this film. For Sushant's fans, his last film is emotionally close. The film is scheduled to be released on July 24 on Hotstar
What is in the trailer:
This 2 minute 43 second trailer will tickle you and make you cry too. Kizi Basu ie Sanjana Sanghi is a cancer patient in this film. One who meets a lively boy and Dilfenk Aashiq Maini i.e. Sushant Singh Rajput. Initially, Kizi does not like Manny, but gradually she is moved by Manny's cuteness and gives her heart. But between the love story of both comes Kiji's disease i.e. cancer. And this is where the trailer will make you emotional about how Kizi ignores Manny in the midst of his deteriorating health and Manny gives up to the last moment with Kizi.




Mukesh Chhabra's direction 
Dil Bechara is directed by Mukesh Chhabra. Mukesh is considered a good friend of Sushant. He is still active in the film industry as a casting director. This is his first film as a director. The film should have been released a long time ago, but the film got stuck after Mukesh's name was added to the Meetu movement. Now due to the outbreak of Corona virus, the film is being released directly on the OTT platform. However, Sushant's fans are not happy with this. He wanted the film to be released on the big screen.




Also Read : Betel killer killed only betel nut, big disclosure in Mahant Rambhaj murder case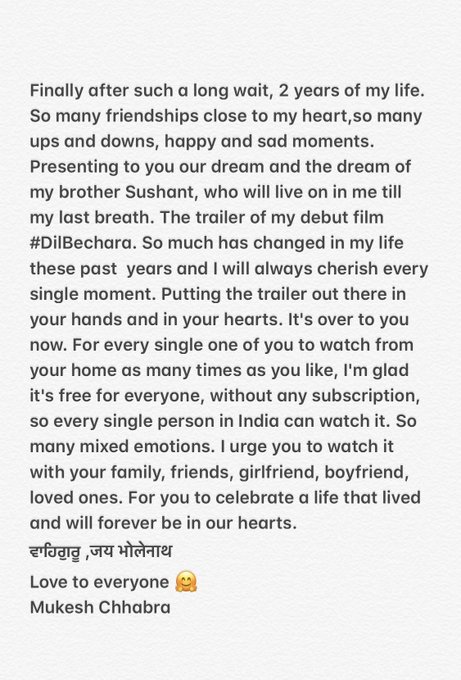 For Sanjana too, the big film Sanjana has shared the screen with Il film Sushant Singh Rajput. Sanjana, who made her name in the world of TV AIDS, has previously appeared in films like Fukrey Returns, Rockstar and Hindi Medium. However, this is her first film as a lead actress. Prior to the release of this film, Sanjana has indicated through a post that she has left Mumbai.