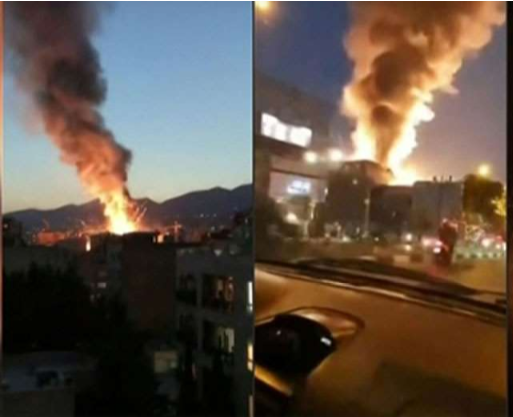 Tehran, Agencies. An explosion and fire at a medical facility north of Iran's capital Tehran has killed 19 people. According to a regional official, the accident occurred due to a gas leak. News agency Sputnik quoted a statement given by a deputy chief of the Tehran police to the YJC news outlet that the oxygen tank exploded in the clinic's semi-basement. Which led to this incident.
The head of Tehran's ambulance service, Payman Sabarian, told the Fars news agency on Tuesday. Sberian informed that 6 people were injured in this incident. Tehran Deputy Governor Hamid Raza Gowderji told state television that the gas leak caused the explosion. 




RT quoted the news online website as saying that a total of 19 people, including 15 men and 4 women were killed in the horrific explosion, emergency services have been confirmed.
A deputy chief of the Tehran police told the YJC news outlet that the oxygen tank exploded in the clinic's semi-basement. News agency Reuters could not independently verify the authenticity of the video. Jalal Maleki, a spokesman for the Tehran fire department, told state television that the fire from the explosion had been extinguished. Harichi said the clinic had 25 employees present at the time of the explosion. These people have mainly undergone mild surgery and medical imaging.
Also Read: Sopore Terrorist Attack: Terrorist attack on CRPF team in Sopore, Kashmir, a young martyr, a civilian also died




State TV said there could be more explosions because there are many oxygen tanks left in the medical center. Marjan Haghi, an eyewitness of the incident, told the news agency The Associated Press that the police had blocked roads in the area.
The explosion took place last week
Significantly, there was an explosion last week near a sensitive military site near Iran's capital Tehran. The Ministry of Defense had reported that the explosion occurred due to a leaking tank in the gas storage facility. No deaths or injuries were reported in the incident.