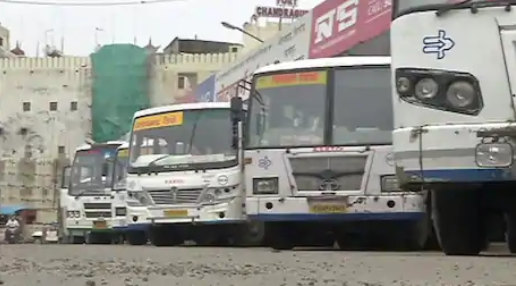 Rajasthan Roadways is soon going to start a bus service to Ahmedabad with night bus service.
Jaipur. Rajasthan Roadways is soon going to start a bus service to Ahmedabad with night bus service. For this, the roadways management has got permission from Gujarat state. However, the bus will operate in Gujarat with 50% percent passenger capacity. In the first phase only Bikaner and Deluxe depots will operate buses for Ahmedabad. Earlier, Roadways was operating buses on the interstate route for many cities of Haryana. From June 30, travelers in the state will also get the benefit of night services.




In the meeting of the zonal managers, it was decided that the buses on all routes on which the roadways were getting a good number of passengers in February, under night bus services. In such a situation, the night bus service can start on more than 100 routes . Roadways CMD Naveen Jain has instructed the officials in the meeting that nocturnal bus service should be started by June 30 in any case. Proposals have been sought from all depots for this
Night buses will run from Sindhi Camp in Jaipur.
Also Read: Vijay Shankar's big revelation about match against Pakistan in World Cup, Indian players had to listen to abuses
It was decided in the meeting that all evening and night bus services running from Jaipur will be operated from Sindhi Camp Bus Stand. At the same time, buses starting from here will also take passengers from Durgapura, Chaumu Pulia, 200 feet bypass and Narayan Circle and Transport Nagar in Jaipur. Sleeper bus service from Jaipur to Sriganganagar, Bikaner and Banswara is also going to start soon.
844 buses operating on route
At present, the roadways buses in the state are doing 1923 trips on 844 routes. This is about 40 percent of the capacity of Rajasthan Roadways. But all these buses are being operated between 5 am to 9 pm. Roadways started its operation with full passenger capacity from 3 July under Unlock 1.0. Roadways are getting good results of that.