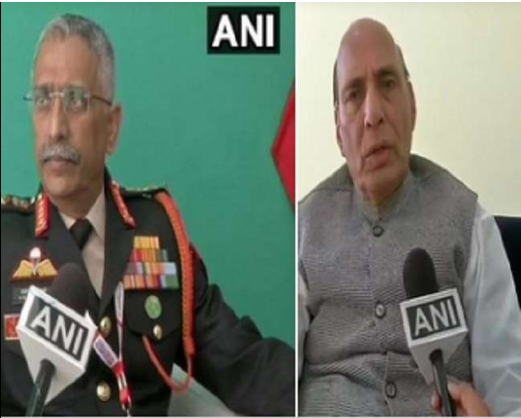 New Delhi, ANI. After returning from a two-day tour to Ladakh, Army Chief General Manoj Mukund Naravane met Defense Minister Rajnath Singh on Friday and apprised him of the situation in the Ladakh sector. The army chief was on a two-day tour in eastern Ladakh. During this time, he also inspected areas near the Line of Actual Control, LAC.
May be discussed with the Prime Minister




The Defense Minister has returned from Russia taking part in the Victory Parade, now he has to meet Prime Minister Narendra Modi to make him aware of the information there. It is possible that he will also inform the Prime Minister about Ladakh related issues. On Thursday, Defense Minister Rajnath Singh returned after participating in the Victory Parade held in the Russian capital Moscow and Army Chief Narwane also returned on Thursday after a two-day visit to Ladakh. 
Talks were held between India-China military commanders 
Before leaving for Russia, the defense ministers were constantly in touch with the military leadership over the Indo-China tension and were closely monitoring the vigilance and border conditions after 20 Indian soldiers were martyred in the violent clash on 15 June. . On 22 June, talks between Indo-Chinese military commanders were held in Moldo which lasted for 11 hours. In this, both countries agreed to reduce tensions. Apart from this, talks were also held on withdrawal of artillery and military forces from the border and both sides have agreed. However, the talks were called positive. According to sources, China indicated reconciliation through talks. 




Also Read: Realme C11 listing on retail site before launch, learn specifications and availability
Let us tell you that 20 Indian soldiers were killed in violent clashes between the two countries in the Galvan Valley on the India-China border. During his visit, the Army Chief reviewed the preparedness of the army present in Ladakh. Also went to the hospital in Leh where the injured soldiers were being treated in the clash with China. There he spoke to the wounded Indian jawans and praised their courage.