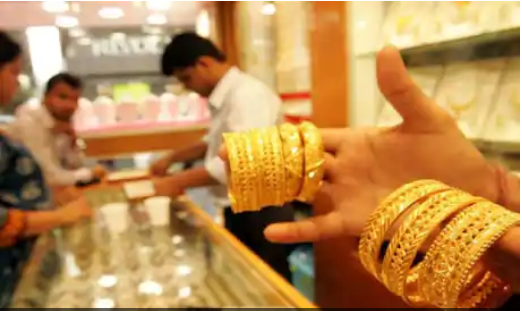 Slowdown in Economy has had a tremendous impact on the gold market due to the Coronavirus Lockdown spread across the world. In the midst of this epidemic, the gold price continues to rise.
Mumbai. Gold price near Rs 50,000 per ten grams has seen a huge jump in prices amid the lockdown (Covid 19 Impact) announced due to Corona crisis and now prices have skyrocketed. This boom is so much that gold is going to be 50 thousand soon. According to market experts, gold prices are likely to cross the 50 thousand mark tomorrow (Thursday). Not only this, market experts are also expecting the price of gold to reach 80 thousand by Diwali.
Let us tell you that on Tuesday, the price of 10 grams of 99.9 per cent gold in Delhi fell by Rs 48,988 to Rs 48,931. During this period, prices fell by Rs 57. Earlier on Monday, Gold (Gold Price) declined by Rs 85 per 10 grams and Silver Price (Silver Price) by Rs 144 per kg.




Why gold and silver are becoming expensive – Due to the Corona epidemic spreading across the world, the falling economy has had a tremendous impact on the gold market. In the midst of this epidemic, prices of gold continue to rise.
Circumstances have become that the price of one tola gold has reached Rs 49900, which is the highest level in history till now. That is, gold will soon be 50 thousand.
Also Read: Global variant of Honor 9A launched, will get 5000mAh strong battery and big display
According to traders, the biggest reason for the rise in gold prices is the Corona epidemic, the Indo-China dispute and the decision by the US Bank Federal Reserve Bank not to raise interest rates by 2022.
Kumar Jain, president of Zaveri Gold Bazaar, says that due to the corona virus, a lockdown has been imposed in most countries around the world. Due to this epidemic, there is a risk of recession in many countries, in which the demand for safe investment on gold has increased.
At present, it is becoming the first choice of investors, but it has definitely increased the concern of the traders, as the wedding season is going on, but most of the people are working on recycling gold instead of buying new gold.