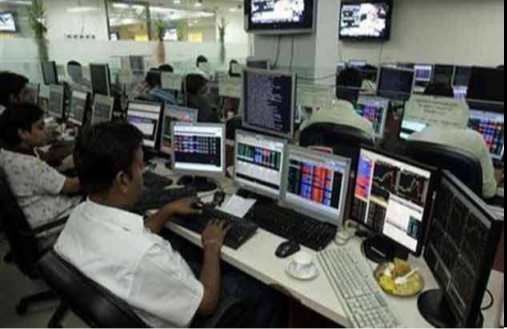 New Delhi, Business Desk. Indian stock markets opened on Monday on the first trading day of the week. The Bombay Stock Exchange Sensitive Index Sensex opened at 34,892.03 on Monday, gaining 160.30 points. The Sensex was trading 0.77 per cent or 267.68 points at 34,999.41 on Monday morning at 9.22 am. In early trade, out of 30 Sensex stocks, 23 appeared on the green mark and 7 on the red mark.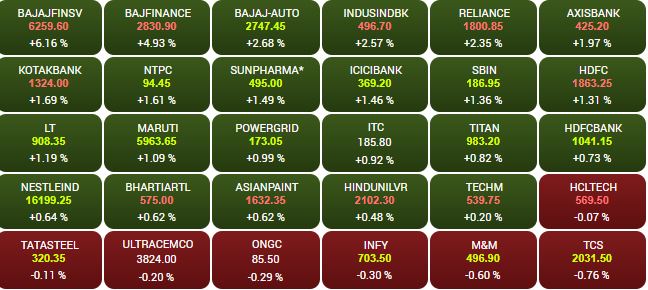 At the same time, the National Stock Exchange's index Nifty also showed a trend in early trading on Monday. The Nifty was trading at 10,332.20 on Monday morning at 9.25 am with a gain of 0.86 percent or 87.45 points. At present, 40 stocks of 50-share Nifty were seen trending on green mark and 10 stocks on red mark.
Also Read: If you are a SBI customer, then be careful, fraudsters are adopting this method for burglary in your account




Nifty shares in early trade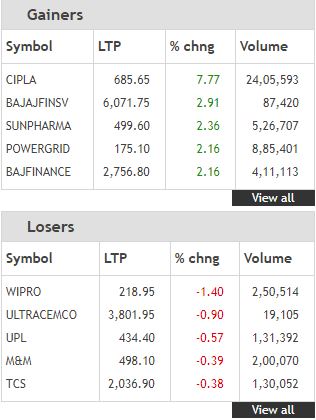 Here is the condition of sectoral indices
In the opening trade on the first trading day of the week, except for one index out of 11 sectoral indices, all others saw an increase. Nifty Media was the biggest gainer in the early trade in indices at 1.83 per cent. After that, it has seen 1.77 percent in Nifty Pharma, 1.50 percent in Nifty PSU Bank, 1.39 percent in Nifty Private Bank, 1.23 percent in Nifty Bank and 1.36 percent in Nifty Realty. At the same time, the Nifty IT was seeing a decline of 0.31 percent.