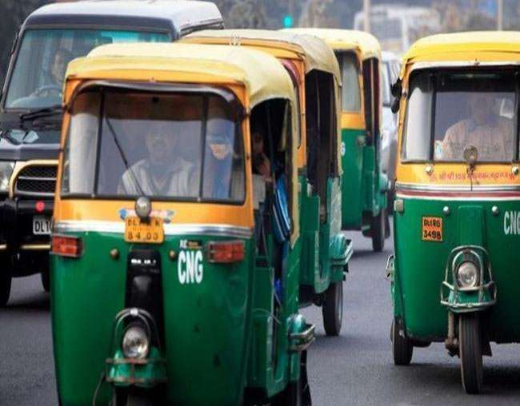 Ranchi, State Bureau. Permission has been given to run auto rickshaws, public transport in the district outside the Containment Zone in Jharkhand. At present, it is not allowed to run buses from one district to another or outside the district. At present, there is also a ban on opening of the religious site. Now by packing food from the restaurant, you will be able to take it home, but you will not be allowed to sit and eat. The Jharkhand government has decided to follow the guidelines issued by the Center outside the Containment Zone.
The Jharkhand government has issued its guidelines on Unlock-1 on Monday. The guidelines issued by the state government two days before June 1 to June 30 have also been approved by the state government, but the guidelines will be applicable outside the containment zone. Permission has been given to run public transport, auto rickshaws, e-rickshaws, general rickshaws within the district within the state.
Whatever has been relaxed is given outside the Containment Zone. Currently, buses going from one district to another are not allowed. Not only this, the religious site has not been allowed to open yet.




Home delivery was provided before the restaurant. Now any person can go to a restaurant but sitting there is not allowed to eat. Permission has now been given to pack food and take it home.
Also Read: CNG prices rise in Delhi-NCR during lockdown, prices will go up from today
Outside the Containment Zone, which has been approved to open
Permission for business of mobile, watch, electronic equipment such as TVs, computers, refrigerators, ACs, air coolers etc. service and parts etc. outside the municipal area also in the municipal area.

Call centers of private companies.

Capital Goods Shops, Heavy Machines, Generator Shops, IT Hardware Shops, Networking Equipment, Software, Telecom Product Shops.

Electric appliance such as wire, switch, light, fan, air cooler, geyser and inverter shops.

Automobiles, bicycles, tractors shops.

Auto accessories, battery.

Jewelery Shops.

Eyeglasses and contact lens shops.

Watch shops

Kitchen related appliances, crockery.

Furniture Shops.

Garages and Motor Workshops.
Lockdown relaxed, but precaution is necessary: ​​Chief Minister




Chief Minister Hemant Soren said that no one should come out of the house without wearing a mask. Follow the physical distance rules completely. Take special care of the elders of the house. Wash your hands with water and soap for 20 seconds. The lockdown is relaxed, but these precautions are not relaxed. Follow these strict rules strictly.
The Jharkhand government has announced major relief for Lockdown 5 and Unlock 1. Now restaurants will open but food will have to be taken home. Showrooms from bicycle motorcycles to tractors will be opened. To give a big relief to the market, all the call centers, mobile service centers, TV and computer related shops have also been opened.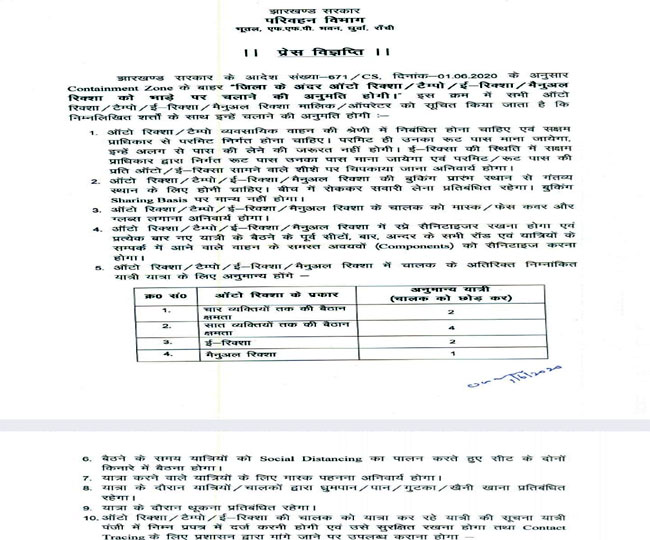 They got relief
Networking related content, software and telecom related material, heavy machinery, generator, hardware parts of IT

Automobile sector

Transporting will take place from one district to another.

Rickshaws, Tempo, e-rickshaws and normal rickshaws will be operational.

Watches showroom

Gold Jewelery Shop

Garages will open