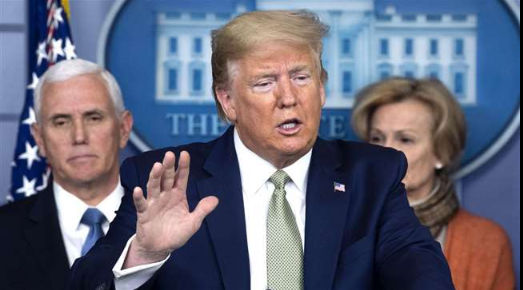 New Delhi (JNN). Hundreds of people have been demonstrating in front of the White House in the US for the past few days. These demonstrations began after the death of a black man named George Floyd in custody. Such demonstrations are happening not only in Washington but also in many states of the country. People are constantly accusing the government of human rights violations. On the other hand, the Trump administration has been blindly accusing India of human rights violations by turning a blind eye to such incidents happening here. Violence erupted after Ashwat's death. In view of this, overnight curfew has been imposed in more than 12 major cities.
Curfew at many places




National Guard has been deployed for security by enforcing emergencies in Nashville and Georgia, including in Minneapolis. In addition, people have been asked to stay off the streets of Miami, Portland, Louisville, Atlanta, Denver, Los Angeles, Seattle and Minneapolis. On Saturday, a Confederate memorial on the University campus of MCPC wrote 'Spiritual carnage with red claws'. This anger has arisen due to the alleged ill-treatment of African-Americans by the police over the years. However, if we look at the history of America, this is not the only such incident. After this, a question is bound to come in everyone's mind, what could be the motive behind making unwarranted accusations of human rights on India even after such incidents.
Also Read: India ready for trump mediation on China border dispute, said- dispute between the two countries will be resolved
Fear of losing the chair
A prominent human rights activist on the same issue, Shabnam spoke to Dainik Jagran. He said that America has been fearing for some years that the chair of his superpower may be snatched away from him. In this, he sees India as his biggest rival. She believes that there has been a big political change in India and America within the last few years. On the one hand, India has got a strong political leadership, while the US has got a President whose own statement has started showing little importance. Whereas India as well as the whole world looked towards America, now the time has completely changed. Now the whole world and America itself is called superpower, looking towards India.
The gap between whites and blacks has increased




According to Shabnam, the gap between white and black people in America has been steadily increasing for a long time. In the present-day incident in America, in which a black citizen died in custody, Many more such examples will be found in American history. The way the present day protests have taken place outside the White House, the demonstrations have a long history here. According to him, due to hatred of the Black community, once even Barack Obama was also conspired to attack. This hatred is not limited only here. There have also been reports from time to time regarding the treatment of black people in America. If a few black citizens are left out, the reality is that these people are used to jobs in the name of jobs that the white people of America do not want to do. This was confirmed in a report last month. This report stated that the number of white people was less among Black people than those affected by Corona.
Strategy part




Shabnam says that in the crisis that is going on in the present, America had to spread its hand towards India for its safety. India supplied Corona relief medicine to him. Apart from this, the steps that India took in the war started from Corona, more or less, America also took those steps. According to him, India fought this war strongly and is also moving towards victory. America's condition is there in front of everyone. She also believes that this truth among the people in America is now home that the trump does not have the will which can bring back America's former glory. People in the public there have retracted their image saying. Apart from this, he has such an image that he excludes those who criticize him first. At the same time, Shabnam also believes that because there are elections to be held in the US after the coming few months, then such events or demonstrations can be done by the opposition's strategy