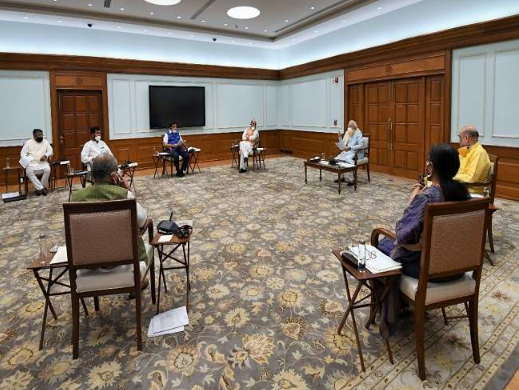 New Delhi, Business Desk.  Many important decisions have been taken in the meeting of the Union Cabinet regarding Micro, Small and Medium Enterprises (MSMEs), farmers and street vendors. Information and Broadcasting Minister Prakash Javadekar briefed the cabinet decisions through a press conference. Prakash Javadekar said at the beginning of the briefing that MSME is the backbone of Indian economy. He said that the central government has prepared a roadmap for implementing the declarations of the Self-Reliant India Campaign. The Cabinet meeting chaired by Prime Minister Narendra Modi approved various measures announced under the Self-Relief Relief Package.




Union Ministers Nitin Gadkari and Narendra Singh Tomar also attended the press conference and briefed the decisions related to their ministries. The first meeting of the cabinet was held on Monday after the completion of one year of the second term of the Narendra Modi government. 
MSME sector definition extended
Prakash Javadekar said that the Indian government has extended the definition of MSME today. For micro industries the limit would be an investment of Rs 1 crore and a turnover of Rs five crore. Industries with an investment of Rs 10 crore and a turnover of Rs 50 crore will come under small industries. At the same time, industries with investment of Rs 20 crore and turnover of Rs 250 crore will fall in the category of medium industries.
Also Read: If you want to become rich very soon, money will be made with money, just you have to do these 4 things
Cabinet approval for equity scheme for MSME sector
The equity scheme for MSMEs has been approved by the Cabinet. Now the MSMEs will be able to get listed on the stock exchanges. The government has also approved a subsidy of Rs 20,000 crore for MSMEs.
Credit scheme approved for street vendor
The cabinet has given its approval to the credit scheme for street vendors. Javadekar said that the scheme for giving loan to street vendors has been named as Pradhan Mantri Swanidhi Yojana. Under this scheme, the street vendors can take loans up to Rs 10,000 on easy terms.




Cabinet fixes MSP of 14 crops
Union Agriculture Minister Narendra Singh Tomar informed that 360 lakh metric tonnes of wheat has been procured. 95 lakh metric tonnes of paddy has been procured. Besides, 16.07 lakh metric tonnes of pulses and oilseeds have been procured. 
The cabinet has fixed the MSP of paddy at Rs 1,868, jowar at Rs 2,620, millet at Rs 2,150 per quintal. Also, the MSP of maize has increased by 53 per cent, groundnut by 50 per cent, sunflower by 50 per cent, soybean by 50 per cent and cotton by 50 per cent. 
Benefits of interest rebate on agricultural loans now till 31 August
Tomar said that the interest waiver on agricultural loans has been extended till 31 August. He said that this is quite a relief for the farmers. By repaying the loan till this date, the farmer will get the loan at 4 percent interest only.




Government will buy shares in MSME
Nitin Gadkari informed that a fund of 10,000 crore has been created, which will be increased to 50,000 crore later. With this fund, the government will buy equity in well-functioning MSMEs. This will give them strength and the stock market will strengthen that stock.