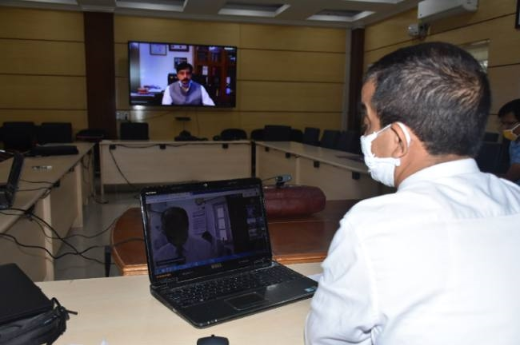 Rachi: The Jharkhand Legal Services Authority (Jhalsa) on Sunday launched three schemes to help the people affected by Corona. This scheme, launched in the name of humanity, duty and Shramev Vandate, will prove to be a boon for the people facing the crisis in this era of epidemic. Launching the plans online, the Chief Justice of Jharkhand High Court, Dr. Ravi Ranjan said that the whole world is troubled by Corona today. We all have to fight together. The government cannot do anything alone. Every person has to discharge his duties. Jhalsa is also taking an active part in this work. Jhalsa will not only provide benefits of government schemes to the people affected by Corona, but will also make them aware about the prevention of this epidemic. A song was also released by Jhalsa on the occasion.




Justice Harishchandra Mishra, acting president of the Jharkhand Legal Services Authority, said that it is a difficult time. We all have to help people together. Jhalsa has been helping people by moving in such a difficult time even in the east. In the coming time, he will be busy in dealing with this problem with full power. Jhalsa has so far assisted more than 19 lakh people in various ways. Jhalsa is the first legal service authority in the country to launch such a scheme. The program was started by Jhalsa Member Secretary AK Rai, while the High Court Legal Services Authority Secretary Santosh Kumar made a vote of thanks. During this time all the judges of the High Court were connected online.




Also Read: PUBG Mobile Pro League (PMPL) South Asia 2020: Know the condition of today's three matches
Shramev Vandate' is dedicated to migrant workers
A log book will be maintained in every district for migrant workers under the Shramev Vandate Scheme. With the arrival in the district, they will be quarantined for 14 days first. Food, medicine, clothes etc. will be provided to them at the center. Special care will also be taken to take care of cleanliness. After this, they will be linked to the mainstream by linking them with MNREGA, Birsa Green Village Scheme, Nilabar-Pitabar Jal Samridhi Yojana, PM Rural Housing Scheme and Self Help Groups etc.
Humanity' for single women, widows and the elderly




In this period of epidemic, orphan children, lonely women, widows and elderly have faced a serious challenge. To take care of them 'humanity' has been started. The District Legal Services Authority will introduce humanity by identifying such people and providing basic facilities to them.
—-
'Duty' to the families of the prisoners living in jail
Jhalsa's third plan 'Duty' will take care of the inmates of the prison and their families. The focus of these schemes launched under Jhalsa Scheme 2020 is to provide protection from corona, cleanliness, availability of masks and sanitizers, compliance of physical distance, providing food, medicine and other facilities to the needy.