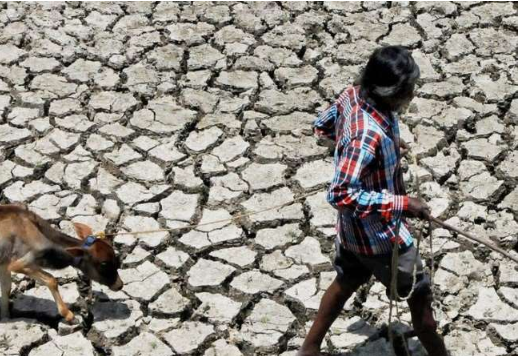 New Delhi, Agencies / Bureau. After the devastation of the cyclone in West Bengal and Odisha, severe heat wave is seen in most other parts of India. The Indian Meteorological Department (India Meteorological Department, IMD) has warned that the outbreak of heatwave will continue for the next five days in Rajasthan (Rajasthan) and Madhya Pradesh (Madhya Pradesh). The alert issued states that in the next 24 hours, some areas of Western Rajasthan may be in the grip of scorching heat.
The All India Weather Bulletin issued by the Meteorological Department states that in Peninsular India and Vidarbha, the heat wave will continue for the next three to four days. Apart from these, East Madhya Pradesh, Southern Uttar Pradesh and Chhattisgarh will also witness heatwave for the next 24 hours. On the other hand, heavy rains are expected between May 24 and May 26 in Sikkim and some other northeastern states.




According to the Meteorological Department, the threat of heavy rain has not yet been avoided due to the impact of the storm. Sub Himalayan West Bengal (West Bengal), Sikkim, Assam (Assam) and Meghalaya may receive heavy to very heavy rainfall during 24 to 26 May. Not only this, there is a possibility of heavy rains in Arunachal Pradesh on 24 May. According to Agency Weather Weather, moderate to heavy rains may occur at one or two places over Kerala and south-coastal Karnataka.
Also Read: Congress's 'justice scheme' starts in Chhattisgarh, farmers will get Rs 7500-7500




Skymet Weather has said in its report that light rain may occur at one or two places in Himachal Pradesh and Punjab. Heat web will be affected in parts of Gujarat, Haryana, Tamil Nadu, Telangana and Andhra Pradesh. Light rains are expected over interior Tamil Nadu, remaining parts of Karnataka, Jammu and Kashmir, Muzaffarabad and Gilgit-Baltistan. According to the Meteorological Department, the cyclone is now weak and is present as a low pressure area over the northeastern states, due to which there is a risk of heavy rain in these areas.
Nagaon recorded the highest temperature of 46 degrees on Friday in Madhya Pradesh. Heat wave occurred in Ratlam, Khargone, Gwalior, Chhatarpur and Damoh. Meteorologists say that the emphon storm has changed the trend of the wind. The wind has started moving west. In the last three days, the storm has drawn all the moisture from the air. Because of this there has been a jump in temperature. On the other hand, the heat wave continued in Rajasthan on Friday. Temperatures in many cities including Jaipur were recorded between 40 and 44 degrees. According to the Meteorological Department, the weather conditions will remain similar for three to four days.