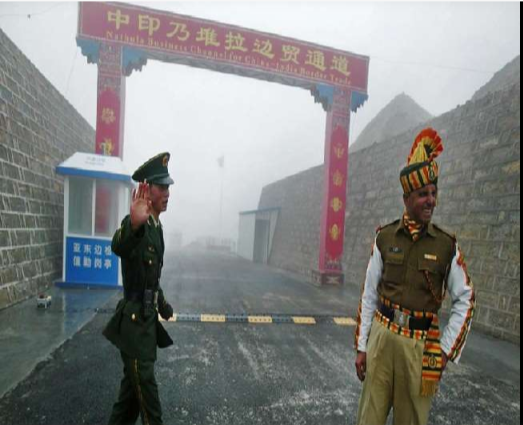 New Delhi There have been at least five rounds of talks between the Indian and Chinese military this week. Even after this the tension over the issue of Pangong Tso Lake and Galvan Valley in Ladakh has not been reduced. Both sides maintain an aggressive stance in the disputed border area. Government sources informed this effect on Friday. The Indian Army has taken a similar stance in response to China's pressure in Pangong Tso Lake in Ladakh and the Galvan Valley. 
Both sides adopt aggressive attitude 




Sources said that during the last two weeks, additional contingents of the army have been deployed at both these places. As long as both sides are taking an aggressive stand in their respective positions, the tension cannot be reduced. The diplomatic channels are working to reduce tensions between the two armies. Tension arose following China's objection to India's road construction in the Galvan Valley. After a violent clash on May 5, the two sides increased presence near the unmarked border in eastern Ladakh. The same confrontational situation arose in Ladakh, the same situation arose on May 9 in North Sikkim. 
China's military is hindering normal surveillance




Sources said that the local commanders of both the armies would be engaged in talks till a solution is found. Amid tensions rising, India said on Thursday that China's military is obstructing normal surveillance. India has always taken a very responsible attitude towards border management. Foreign Ministry spokesman Anurag Shrivastava strongly rejected China's argument in a media briefing.
Also Read: After China, Pak now deploys border, artillery and additional military division
Army president arrives in LAC amid tension from China




Meanwhile, Indian Army Chief MM Narwane arrived on the Line of Actual Control (LAC) on Friday amid heightened escalation from China in eastern Ladakh. Here he reviewed the situation arising out of the mobilization of Chinese troops in the Galvan Valley. He encouraged the soldiers. Tents have been infiltrated by China in the Galvan Valley. To answer this, the Indian Army personnel are ready to face any challenge at this time. 
America warns, says India should not take it lightly
In a White House report, New Delhi has been warned about the military movement on the Indo-China border. The US has said that China is engaged in provocative and tremendous military and paramilitary activities with neighboring countries including India. The report says that this Chinese signal is dangerous and India should not take it lightly. The special thing is that this report came at a time when a recent US security report claimed that China has secretly increased its strategic power. It has missiles that reach the US.