Ranchi, State Bureau. The number of corona patients in Jharkhand is increasing steadily. On Friday, 22 corona infects have been identified once again. Of these 8 cases are from Hazaribagh. While 7 cases belong to Gumla, three cases to Chaibasa and three cases to Ramgarh district. A woman has also been found to be corona positive in Jamshedpur. At the same time, in three cases of Chaibasa, one woman and two youths were found corona infected. A 12-year-old girl and two migrant laborers were found corona positive in Ramgarh. Today's fodder in the Kolhan region is associated with infected East and West Singhbhum. With this, the number of corona positive cases has increased to 330 in the state. Today, 3 Chaibasa and one case related to Jamshedpur have been reported in the current cases in Kolhan. Majority of the infected patients are migrant laborers returned from Mumbai. 137 corona patients have become healthy in the state so far.
Corona infection continues to increase in Jharkhand, 22 new patients found




In Jharkhand, corona infection continues to increase. On Friday, 22 new corona patients were found in Jharkhand. With this, the number of corona patients in the state has now increased to 330. Of these, 137 people have become healthy. On Friday, eight patients were found in Hazaribagh, 7 in Gumla, three each in Ramgarh and West Singhbhum and one in East Singhbhum. The majority of the new patients are migrant laborers who have recently returned from Mumbai etc.
8 in Hazaribagh, 7 in Gumla, three each in Ramgarh and West Singhbhum, one new patient in East Singhbhum  




Among the patients of Ramgarh are two Mandu and one Gola, who had returned from Mumbai recently. One of the eight patients of Hazaribagh was undergoing treatment at RIMS. Other patients of this district are residents of Ichak, Padma, Chauparan etc. All of them had also returned from Mumbai recently. All of the seven corona patients in Gumla are migrant laborers. All three patients from West Singhbhum include two men and a young woman. These three patients, residents of Chaibasa, Khuntpani and Tonto blocks, also returned from Mumbai. The patient from Jamshedpur is a woman who had returned from Kolkata recently. Let us know that a day earlier, 18 patients including four CRPF personnel were found in Bokaro, while on Wednesday, the highest record 42 workers were found.




Also Read: A record 6,088 cases in 24 hours in the country, 2,940 new cases in Maharashtra, know the condition of other states
Where many patients of corona till now
Ranchi: 112

Garhwa: 47

Hazaribagh: 41

East Singhbhum: 17

Koderma: 16

Giridih: 16

Palamu: 15

Bokaro: 15

Gumla: 10

Dhanbad: 07

Ramgarh: 06

Deoghar: 05

Latehar: 04

Seraikela-Kharswan: 04

Simedga: 03

Lohardaga: 02

Jamtara: 02

Dumka: 02

West Singhbhum: 03

Chatra: 01

Godda: 01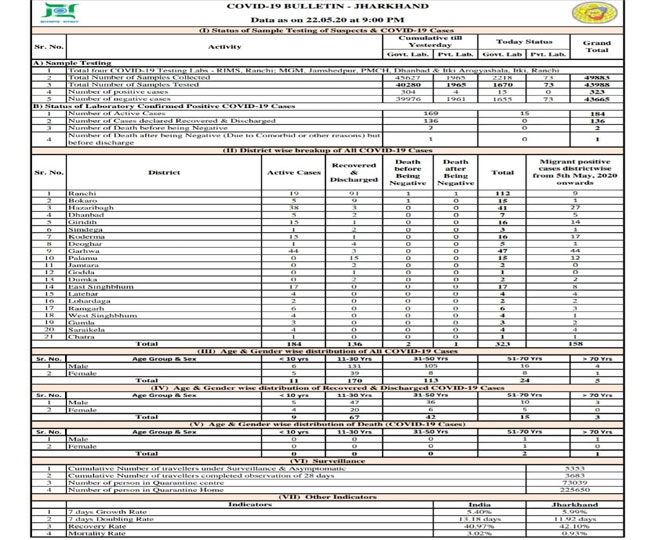 Here in Jharkhand 137 Corona positives have won the battle of life by fighting Corona so far. They have been discharged from the hospital after being found negative. Earlier on Thursday, a total of 18 new cases were reported in the state. These include 7 in Ranchi, 5 in Bokaro, two each in Koderma-Saraikela Kharsawan. In Jamshedpur and Giridih, one corona infection was confirmed.