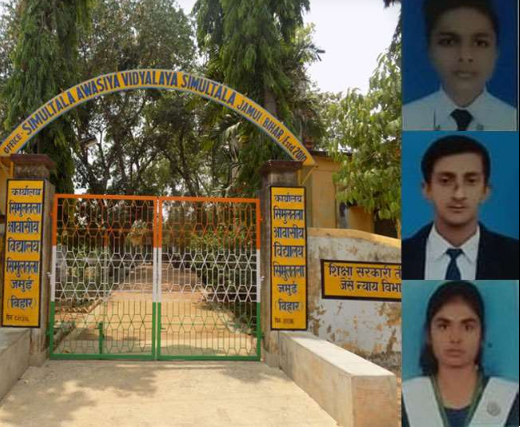 Patna, JNN. BSEB, Bihar Board 10th Result 2020: Bihar Board is going to release the result of 10th (Matriculation) Examination. It is expected that this time also the flag of Simultala Residential School in Jamui will be hoisted. School students have consistently topped Bihar Board exams since the year 2015. This school, which has been giving toppers for many consecutive years, is also known as Topper's Factory. There is a tough competition to enter this school in Bihar.
School running since 2010 amidst dense forests and hills




The school was established in the year 2000. It was inaugurated by Chief Minister Nitish Kumar on 9 August 2010. In fact, after the partition of Bihar, Netarhat Residential School (Ranchi) and Indira Gandhi Residential School (Hazaribagh) moved to Jharkhand. Since then, the need for such high quality schools was felt in Bihar. Following this, Simultala residential school was set up in Simulatla, Jamui amidst dense forests and hills at the initiative of Chief Minister Nitish Kumar. Simultala is also called Mini Shimla, given the environment there.
This year too Simultala students will wave
It was included in the list of toppers of school matriculation for the first time in the year 2015. It has not looked back since. The principal of the school, Dr. Rajeev Ranjan, is hopeful that this year more than a dozen students will make it to the top 10. The Bihar board verifies its toppers before releasing the results. It is said that students of this place were included in this verification.
Bihar Board has been giving school toppers since 2015
Talking about the first year of this, in 2018 and 2019, 16-16 students of Bihar Board 10th were included in the top-10. In the first three places in 2018, there were only students from Simultala at the first five places in 2019. In 2015, 19 students of Simultala were able to make it to the toppers list with 96 percent marks. This is the record of Bihar Board till date.
Whenever Toppers is discussed, Simultala's name comes, see
Also Read: Lockdown Exemptions For Board Exams, States To Arrange Buses: Amit Shah
Actually, whenever 2015 Bihar Board toppers are discussed, Simultala's name comes up. Let's look at its toppers since 2015….




2015: In the year 2015, Kunal Curious and Neeraj Ranjan of Simultala topped with 487 marks (97.4 percent). The 19 students of the school got 96 percent marks, which is the board's record so far.
2016: Babita Kumari and Trishya Tanvi of Simultala topped with 96.6 percent marks.
2017: This year's topper Prem Kumar Singh did not belong to Simultala. Second topper Bhavya (92.8 per cent) and third topper Harshita (92.4 per cent) were Simultala.




2018: Prerna Raj of Simultala topped with 91 percent marks. Second topper Pragya and Shikha and third topper Anupriya were also students of Simultala. Of the 23 students in the top 10, 16 were from Simultala. All the nine girls in the top 10 were from Simultala.
2019: Sawan Raj Bharti of Simultala topped with 97.2 percent marks. Raunit Raj (96.6 percent) was the second topper and Priyanshu Raj (96.2 percent) was the third topper of Simultala. Adarsh ​​Ranjan, Aditya Rai and Praveen Prakhar (all 96 percent) of Simultala also finished fourth. Harsh Kumar (95.8 percent), who got the fifth position, also belonged to this school. Except for the sixth and ninth place in the result, the students involved in Top 10 were from Simultala. Of the 18 students who made it to the top 10, 16 were from Simultala.
Admission to 60 seats in sixth, Bihar board takes test
The question is, how does one enter this school that provides quality education and results? Admission takes place here in class six. Bihar board takes the written test to enroll for a total of 60 seats here.




Residential school in Gurukul system, studying in English medium
This school is co-education based on Gurukul system and fully resident. Studies are done in English medium. It studies from Bihar State Text Books and NCERT books. Co-curricular activities are also given equal attention.
Children waking up at 4.30 am, teachers available at all times
Talking about daily routine, students get up at school at 4.30 am. After the exercise and prayer in the morning, the studies are done from eight o'clock to two o'clock in the day. Then there is a break in the middle. After this, self-study time is scheduled from 6.30 pm to 9.30 pm. At 10 o'clock, the students go to sleep. In case of any problem while studying, teachers are always available for solution.