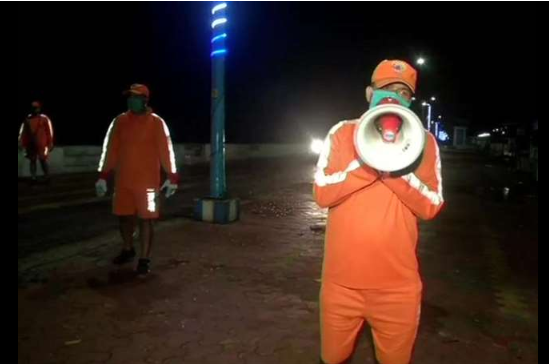 New Delhi,  Jeanan . The impact of the first 2020 Super Cyclone Amphon made in the Bay of Bengal has started to appear in the coastal districts of West Bengal and Odisha as well as Bhubaneswar from Tuesday evening. Rains have already started in many areas of Bengal and Odisha. The Assam government has also declared a high alert in view of the storm. Officials said that lakhs of people have been evacuated from at-risk areas in West Bengal and Odisha to safer places due to the storm. Both states are on high alert as high winds are blowing due to the cyclone and rains in many areas of Odisha. 45 to 55 km between rain showers. Wind has started moving at an hourly pace. High waves have started rising in the sea.




According to DG Mrityunjay Mahapatra, director general of the Meteorological Center, the emphon is weakening in the sea. It will then be transformed into an extreme seawler cyclonic storm and will move towards north Odisha. Amphon is currently 350 km from Paradip. And 510 km from Digha. Is traveling at a speed of 18 km. Between noon and evening on Wednesday, it will hit the landmark near the Sundarbans on the Digha-Hatia coast of Bengal. Then the wind speed is 155 to 165 km. Will be hourly.
Mahapatra has said that there is not much danger in Odisha with emphon. As the storm will not make landfall on the Odisha coast, but its passing through the Odisha coast will see the impact of the emphon in Jagatsinghpur, Kendrapara, Bhadrak and Baleshwar districts. There will be heavy to very heavy rainfall in Jagatsinghpur, Kendrapara, Bhadrak and Baleshwar districts. 110 to 120 km in Bhadrak and Baleshwar districts. Wind will blow at an hourly pace. The wind speed is 125 km when the amphon collides with the terrain. It will be hourly.
Relief and Rescue at War Level




As a precaution, relief and rescue operations have been started on a war footing. With the cooperation of NDRF, ODRF, fire brigade and administrative officials, the process of bringing the people living in low-lying areas to a safe place has been expedited. High alert has been sounded at Chandbali, Dhamra, Vasudevpur port in Bhadrak district.
Amphon will raise the orbit like a gem
The super cyclone Amphon, which has taken a terrible shape, will make landfall on Wednesday. At the time of landfall, its outbreak will be like a gem. For this, the information about the NDRF being fully prepared has been given by NDRF DG Satyanarayana Pradhan on Tuesday. It is said that 15 teams of NDRF have been deployed in Odisha and 19 teams in Bengal, while seven teams have been kept in reserve.
Diameter of emphon is 30 km
Super Cyclone Amphon's eye diameter is 30 kilometers. Its exterior is huge in size, having entered Odisha and its influence is being seen across the state including Bhubaneswar. The sky is covered with clouds. This information has been given by RK Gennamani, Chief of Cyclone Department of Indian Meteorological Department (IMD).
Amit Shah spoke to Naveen Patnaik
Union Home Minister Amit Shah has discussed with Odisha Chief Minister Naveen Patnaik on Tuesday regarding the Super Cyclone. Home Minister Shah has assured the Chief Minister for every kind of cooperation. The four districts of North Odisha are likely to be affected more by Emfan, but 12 districts have been focused and prepared by the government. Apart from the Home Minister, the Union Cabinet Secretary has also discussed Amphon with the Chief Secretary of Odisha on Tuesday.




3 lakh people were evacuated to safer places in Bengal
Also Read: Big news for job seekers! This big rule related to your PF account has changed
Bengal Chief Minister Mamata Banerjee said on Tuesday that all the precautionary steps have been taken, including evacuating nearly three lakh people from the coastal areas of the state in view of the threat of cyclonic storm emphysema. He said that Union Home Minister Amit Shah has spoken on this issue. Mamta has requested not to run any special train to bring migrant laborers back to Bengal from Wednesday morning to Thursday morning.
Alert even in border districts of Chhattisgarh




In Chhattisgarh, the districts bordering Odisha have been warned about storm storm. There may be heavy thunderstorms and rains in Mahasamund, Gariaband, Kondagaon, Bastar and Dantewada districts. The rains brought devastation in Mahasamund and Balod districts on Monday afternoon. Tin roofs flew in many villages. More than a hundred trees were strewn. Electricity supply has been disrupted in more than 50 villages due to falling electric poles.