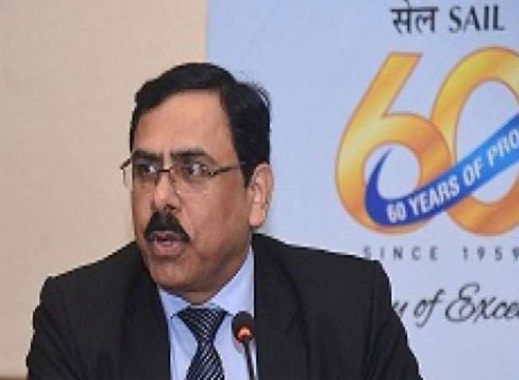 The corona epidemic has stopped the economic growth of India as well as worldwide. It is now well known that it will have more impact on the economic sector than health. Anil Kumar Chaudhary , chairman of the country's premier state-owned undertaking and steel maker SAIL Limited, in a detailed conversation with Dainik Jagran's special correspondent Jayaprakash Ranjan , said that due to the Kovid-19 production of his company has been reduced, but it has given many big possibilities. The doors have also been opened. Many new markets have emerged. Here are the highlights of the conversation:
How has Kovid-19 impacted SAIL's production and what is the situation right now?




Before the lockdown was announced, on March 23, we had an idea about it. On the same day we had a meeting and had drawn up a strategy roughly for the time of lockdown. Despite this, the combined production of all our SAIL plants was 52 per cent in March. Some demand also started increasing after 20–21 April in the lockdown itself. So our production was close to 50 percent. Even in May, the production is 45 percent. As far as demand is concerned, it has definitely decreased but there are signs of growth in it. Demand from abroad has started, on the other hand, domestic markets are opening up, due to which demand for finished steel products has started increasing. Then, the economic package announced by the government will also have an impact on demand. In June, we will start selling up to 80 percent of the same month last year. There is a huge demand for steel in the country soon. We are still firm on our full year production goals.
But the market is talking about a big drop in steel demand. What are the reasons behind your positive thinking?
I am telling you that after the thorough thinking and understanding of the market, there will be a sharp increase in demand for steel. Kovid-19 has challenged us but it has given some opportunities. For example, take the example of China. No one thought that the demand for steel would be so high in this country which was affected by the Kovid-19 epidemic two months ago. There is a huge demand for steel in China and we are getting its order too. We are getting a lot of demand from Southeast Asian and African countries. Production in countries with large economies is closed or factories are producing only 50 percent of their capacity. We do not get their order under normal circumstances. We have booked an export order of four lakh tonnes from these countries in April. The order for two lakh tonnes is going to go soon. We are busy preparing for supplies from July. Some problems are coming from the busy Haldia and Paradip ports, So we have started using Visakhapatnam port. Orders have started coming in from Nepal. This is our old market. I am in constant touch with the industry itself. Being the chairman of FICCI Steel Committee, I am also in touch with entrepreneurs from other sectors. Based on their feedback, I can say that like China, there will be a huge demand from the domestic market of India.




What will be the impact of the package announced by the government to strengthen the economy?
See, this package will positively impact the steel industry in the country in many ways. Firstly, the help which will be given to small and medium industries will boost the entire economy. MSME accounts for 29 percent of the country's GDP. These will increase demand for steel. The steps taken for the agriculture sector will also ultimately increase the demand for steel, which will benefit the steel companies. The time around September is usually less demanding but this time this tradition will also be broken. We should not leave everything to the government. You see, what is the state of revenue of the government right now. In such a situation, there are limited opportunities to increase expenditure. We should understand this and as a citizen of a company or country, we should take steps on what we can help in fighting this recession.
Given the circumstances that Kovid-19 has created, is your company rethinking its strategy?




I have already said that Kovid-19 has also opened the door to many new possibilities for us. If you are asking about expansion planning or production planning, then my answer is that we have no plans to reduce or avoid them. It has been agreed among our core team that our production from Corona has had an impact of only one and a half months. There is still more than 10 months and we can make up for it. We are not cutting the steel production target. If business is affected for two months, it does not mean that we change the whole strategy. Yes, we have learned many things during this time. For example, the steps that were to be taken later for cost control or adoption of technology are still being implemented. Fixed cost accounts for a large proportion of steel production. We have produced an average of 50 percent in three months, But the cost has also not increased. It tells us what level of preparation we have.
Also Read: Air India Schedule Ready! Special Domestic Flights Between May 19 and June 2 to Ferry Stranded Passengers
In spite of all the restrictions during the Kovid-19, what steps has been taken by a large company like SAIL to keep functioning normal?




This preparation has taken place at several levels and is still ongoing. I believe that in the near future, we will have to go with the Kovid-19. Our methodology must include measures to deal with and avoid it. Our work is going in this direction. We are constantly in touch with our customers and employees, which is most important at this time. At the beginning of Kovid-19, we made contact with our 50 largest customers in the country and told them how much stock we have, how much we are producing and what their needs are. By expanding this, we have now established a separate dialogue with the big customers of all the four regions of the country, so that their needs can be understood and the supply can be explained in detail.
To protect its employees, it has made its rules based on the guidelines of the Ministry of Home Affairs. There is no compromise with the health safety of customers. Special arrangements were made to pay salaries to every employee. Those working on the plant have been given separate incentives. We are also in touch with organizations and customers of steel companies to better understand the situation at the national level. The best effort is to maintain positive thinking as a big public sector company so that when there is a huge demand for steel in the new environment, we will be ready to meet it.