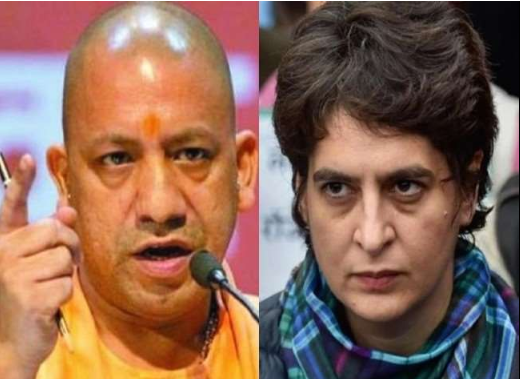 Lucknow [State Bureau]. Coronairus Lockdown: Uttar Pradesh has become a riot of  politics in the midst of a battle to save lives from Corona infection. In the backdrop of the migrant labor-workers, the Congress is also in the fray when the Congress came to the ground, challenging the UP government. National General Secretary Priyanka Vadra, who has been called his trump card by the Congress, is on the front of the government himself, Chief Minister Yogi Adityanath. On both sides, this is not the time for politics and on both sides the stakes are such that even skilled politicians should press their fingers under their teeth.




Priyanka Vadra started this journey of politics with the offer of buses for migrant labor-workers, and Chief Minister Yogi Adityanath gave the buses the green light, laying sharp questions. These thousands of buses are just a means for a purpose or will actually bring workers to the floor, it is yet to come to the fore.
The opposition is constantly raising questions about the problems being faced by migrant workers and workers, but after the Auraiya accident, the steering of this politics of siege was firmly held by the Congress. Priyanka Vadra, general secretary in-charge of the Congress, sought permission to run one thousand buses towards the Congress, terming the Yogi government of UP incompetent in the system of buses. On Sunday, buses were brought from Rajasthan and parked on the UP border. Then the video went viral and spread the message that our buses are ready to take workers, but the government is not giving permission.
The political debate started that the ball is now in the government's court, but Chief Minister Yogi Adityanath did not delay in replying. He issued a statement shortly after that if any party wants to help, they are welcome, but provide the list of bus, driver and workers. On Monday, a letter regarding permission from Additional Chief Secretary Home Avnish Kumar Awasthi was also written to Priyanka Vadra's private secretary.
Also Read: BSNL launches Rs 1,999 fiber broadband plan with 200 Mbps speed




Along with this, Chief Minister Yogi Adityanath has also raised many questions on this politics of the Congress, in which the important thing is that if the Rajasthan government of Congress has such a system of buses, then why are the workers being sent in trucks loaded from there? Here, Congress state president Ajay Kumar Lallu showed the list of buses to the media, after a few hours Priyanka's private secretary Sandeep Singh also sent a list of one thousand buses via email to the Additional Chief Secretary Home. Also, on Tuesday, all the buses will be ready to run on the border. You issue the permission letter.
Bring all buses in Vrindavan scheme
Late Monday, Additional Chief Secretary Home wrote a letter to Priyanka Vadra's private secretary that all the buses should be parked in Lucknow's Vrindavan Scheme Sector 15 and 16 at ten in the morning. Hand over driving license of drivers of all buses, identity card of operators and fitness certificate of buses to District Magistrate Lucknow. Permit letters will be given.
How many buses will be helpful if we go




It is noteworthy that according to the claim of the Yogi government, 7 lakh 60 thousand migrant labor-workers have been brought to Uttar Pradesh by 590 trains. At the same time, more than ten thousand buses are being driven every day, from which one lakh people have been transported to the destination. In such a situation whether one thousand buses run or not and how much help will be there, it has to be seen.
Like this, tweet-wise
Question from Yogi's Priyanka
When you had a thousand buses, then why are you sending our colleagues from Uttar Pradesh, Bihar, Jharkhand and West Bengal in trucks from Rajasthan and Maharashtra.
The whole country is hurt by the painful road accident in Auraiya. One truck was coming from Punjab and the other from Rajasthan. Will Priyanka Vadra take responsibility for this accident? Will apologize to our colleagues.
Priyanka Vadra says that she has a thousand buses. It is another matter that till now the list of these buses has not been made available. A list of buses and our associates should be made available, so that their actions are visible on the ground, not on Twitter.
More than half of the labor special trains running across the country have come to Uttar Pradesh. If Priyanka Vadra is equally worried about us, then why are she not making arrangements to send the rest of our companions from the Congress ruled states as well.
Priyanka's answer to Yogi
It is our moral responsibility and right to save human life, protect the poor, protect their dignity at the time of epidemic.
The Congress is performing its duties in this difficult time with all its capacity and service. These buses are an extension of our service.
Thank you for allowing us to run a thousand buses at the expense of Congress, to help thousands of siblings on foot in UP.
On behalf of the UP Congress, I assure you that we will stand to face this crisis with our brothers and sisters in Uttar Pradesh who are suffering due to the epidemic and its consequent lockdown.