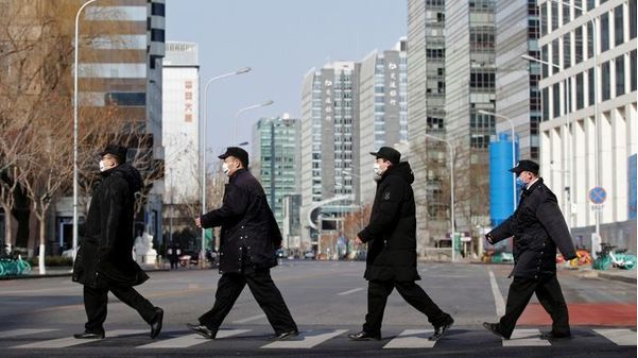 A 39-year-old man in Hong Kong who was being treated for the novel coronavirus has died
China has imposed sweeping measures to try to halt the virus including virtually locking down the central province of Hubei
The death toll in China's coronavirus rose sharply to 425 with 64 deaths on Monday alone while 3,235 new confirmed cases were reported, taking the number of those infected with the deadly disease to 20,438, Chinese health authorities said on Tuesday. The 64 people who died on Monday were all from the Hubei province, the epicentre of the virus, China's National Health Commission said.




Here are the latest updates of the deadly coronavirus:
Patient infected with coronavirus has died in Hong Kong
A 39-year-old man in Hong Kong who was being treated for the novel coronavirus has died, medical authorities confirmed Tuesday, the first fatality connected to the illness in the financial hub and only the second outside of mainland China. A spokesman for the Hospital Authority said the victim was a resident of Hong Kong who travelled to the Chinese city of Wuhan, the epicentre of the outbreak, on January 21 and who returned to the financial hub two days later.
Japan to quarantine cruise ship on which coronavirus patient sailed
Japan's government said on Monday it would quarantine a Yokohama-bound cruise ship, after a Hong Kong man who sailed on it last month tested positive for coronavirus. The 80-year-old man flew to Japan and boarded the ship, the Diamond Princess, run by Carnival Japan Inc , in Yokohama on January 20 and disembarked on January 25, NHK public broadcaster said.
He developed a cough a day before embarking but did not develop a fever until January 30, a day before he was confirmed to have been infected by the virus in Hong Kong, NHK reported.




Princess Cruises, a Carnival-owned cruise, said the review of the arriving guests and crew was standard practice after a guest tested positive.
Chinese woman detained for hiding virus contact
Police in China have detained a woman for "deliberately concealing" her contact with someone from an area stricken by the coronavirus and jeopardising efforts to stop its spread, the Xinhua news agency reported on Tuesday.
China has imposed sweeping measures to try to halt the virus including virtually locking down the central province of Hubei, where the virus emerged in December, and asking anyone who has visited there to isolate themselves for 14 days.
The detained woman, a 36-year-old identified by her surname, Liu, had hurt virus prevention and control work through her action and public security authorities in the northern municipality of Tianjin took her into custody for "administrative detention".
The state news agency gave no details of what she had done or say if or when she would be released.
Hyundai suspends production line over China outbreak




South Korea's largest automaker Hyundai Motor halted operations at one of its assembly lines Tuesday because of a lack of parts due to the coronavirus outbreak in China and is reviewing a wider suspension, a company spokeswoman said.
The virus outbreak in China had disrupted wiring component procurement, a Hyundai spokeswoman said.
"For now, the production line for the Genesis sedans at the Number 5 plant in Ulsan has been temporarily suspended," she said.
She could not estimate when production might resume and added the company was discussing possible suspensions of operations at more plants with its labour union.
"The situation doesn't look good," she said.
Far from virus epicentre, China's Wenzhou city scrambles to curb outbreak
Far from the coronavirus epicentre, the eastern Chinese city of Wenzhou, a major commercial hub with a population of about 9 million, is scrambling to contain its own local outbreak.
Wenzhou is more than 680 km (425 miles) from Wuhan, where the epidemic was first reported, but its problems underscore the challenges faced by China's big cities as they grapple with the rapidly spreading disease.
Wenzhou had 291 confirmed coronavirus cases as of Sunday, up 26 on the day and the most of any city outside Hubei province, where Wuhan city is located.
Under restrictions implemented on Saturday, only one person per household is allowed to leave home at a time, and markets, shopping centres and entertainment venues have been closed.
Asia markets rise, Shanghai swings as investors track virus
Asian markets rose Tuesday with Shanghai fluctuating between positive and negative as bargain-buyers stepped in after the previous day's rout but trading floors remained anxious as China's deadly virus claimed more lives.
Investors tracked gains in Wall Street and Europe following last week's rout, though focus remains on authorities' efforts to contain an outbreak that has now infected 20,000 and killed more in mainland China than the SARS epidemic, which hammered Asian economies in 2003.
The virus has now spread to more than 20 countries and several others have imposed tough travel rules including banning flights to and from China, while the World Health Organization has declared a global health emergency.
Virus jolts China economy, forcing rethink on almost everything
China is preparing steps to adjust to a slower rate of economic growth as the coronavirus outbreak shows few signs of abating.
Officials are evaluating whether to soften the economic-growth target for 2020, while state-owned liquefied natural gas importers are considering declaring themselves unable to fulfill some obligations on cargo deliveries — known as force majeure — according to people familiar with the matter. And authorities in Beijing are hoping the U.S. will agree to some flexibility on pledges in their phase-one trade deal, people close to the situation said.
Two-thirds of the Chinese economy will remain closed this week as several provinces took the extraordinary step of extending the Lunar New Year holiday to help curb the spread of the disease that's claimed 425 lives, with 20,438 confirmed cases, mostly in Hubei.
Australia eyes second flight from Wuhan as evacuees arrive on Christmas Island
Australia may arrange a second evacuation flight out of China's Wuhan city, the epicentre of the coronavirus, after a first plane load of its citizens arrived on Christmas Island in the Indian Ocean, Prime Minister Scott Morrison said on Tuesday.




Some 241 passengers on the initial flight will be quarantined for two weeks on the remote Australia-run island, about 1,400 km (870 miles) northwest of mainland Australia.
A Qantas Airways Ltd 747 carrying the evacuees and Department of Health officials landed at a military airbase north of Perth, where passengers were transferred to two smaller planes for the flight to Christmas Island. The first of the chartered flights landed on Christmas Island on Tuesday morning.
China's virus-stricken Wuhan converts buildings into hospitals
The central Chinese city of Wuhan, the epicentre of the coronavirus outbreak in the country, started on Monday night to convert a local gymnasium, an exhibition centre and a cultural complex into makeshift hospitals, a local newspaper reported.
The three venues will have more than 3,400 beds in total for patients suffering from mild cases of the infection, the official Changjiang Daily said.
Wuhan, capital of the central province of Hubei, had planned two makeshift hospitals, Huoshenshan and Leishenshan, with 2,600 beds in total.
Xi Jinping warns virus may impact China's social stability
Chinese President Xi Jinping called on all officials to quickly work together to contain a deadly new virus at a rare meeting of top leaders, saying the outcome would directly impact social stability in the country.
The effort to contain the virus directly affects people's health, China's economic and social stability, and the country's process of opening up, he told a meeting of the Communist Party's powerful Politburo Standing Committee on Monday. Leaders also urged officials "to achieve the targets of economic and social development this year" and "promote stable consumer spending."




Oil prices rebound from China virus slump amid ginger recovery across markets
Oil prices rose on Tuesday, matching moves in other financial markets as investors regained calm after Monday's sharp sell-off on fears of the impact of the China coronavirus on demand sent crude to its lowest level in more than a year.
Brent crude was at $54.66 a barrel by 0227 GMT, up 21 cents, or nearly 0.4%, while U.S. West Texas Intermediate (WTI) crude was up 32 cents, or 0.6%, at $50.43 a barrel.
Both Brent and WTI are currently down by more 20% from this year's peak on January 6.