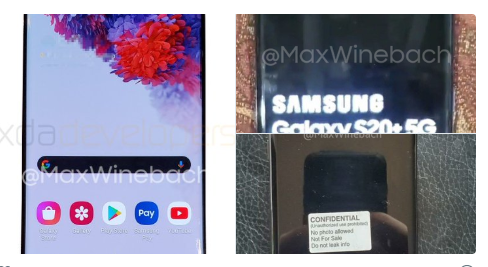 In roughly a month, Samsung will announce the Galaxy S20 series. According to a tweet by XDA Developers writer, Max Weinbach, we will be getting five Galaxy S20 phones. The five phones are the Galaxy S20, Galaxy S20 5G, Galaxy S20+, Galaxy S20+ 5G, and the Galaxy S20 Ultra 5G. Since all the phones that will be powered by the Snapdragon 865 will have a 5G modem, it is safe to say the non-5G versions of the Galaxy S20 are the ones powered by the Exynos 990 chipset.
Samsung Galaxy S20
Samsung Galaxy S20 5G
Samsung Galaxy S20+
Samsung Galaxy S20+ 5G
Samsung Galaxy S20 Ultra 5G
Ahead of the release, Max has also posted live photos of the Galaxy S20+ 5G and they confirm what we already know about the design of Samsung's upcoming flagship.
The biggest change is the display which no longer has a pill-shaped punch hole at the top left corner for dual front-facing cameras but a centered one for a single camera. Max says in a separate tweet that the display is not as curved as that of its predecessor, the Galaxy S10+. The reason for this is because Samsung is using 2.5D glass for the display.




The Galaxy S20+ also has fewer buttons as the Bixby button is now gone, hopefully for good.
As I mentioned in the article, the Galaxy S20+ isn't very curved. It actually feels flat in the hand. This is because Samsung is using 2.5D glass. For those who hate curved screens, you all will be very excited.
2.5D glass is the same type of curve as the Pixel 2 XL.
Another of the live images show the phone's rear with the now-familiar rectangular camera housing. There are four cameras – three vertically arranged on the left while the fourth is nestled between the LED flash and a microphone on the right.




Other than a difference in the processors, we don't know if there will be any other significant differences between the Galaxy S20+ and the Galaxy S20+ 5G.
Max said he has more details about the phone including videos of the device. So keep your eyes peeled for more Samsung leaks this week.