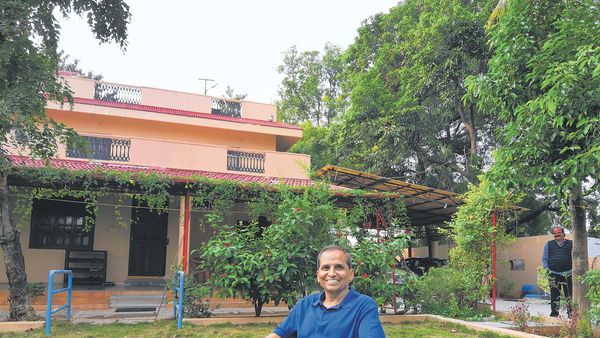 When Raju Reddy first left his home in Nizamabad, 175km north of Hyderabad, he was a 10-year-old going to Sainik School, Korukonda, near Visakhapatnam on the east coast. His father was an itinerant executive engineer for the Kadem irrigation project in Telangana and wanted his son to get a good education and "discipline".
Today, 50 years later, Reddy is one of the most successful Indian Americans in Silicon Valley, having sold his IT services company Sierra Atlantic to Hitachi in 2010. But he still returns to Nizamabad every three or four months, like he used to as a boy.
Pappu (Telugu version of dal), vegetables, chapati, rice, and thick curds are on the lunch table which he shares with his 87-year-old father, Ram Reddy, and another prominent Bay Area angel investor, 75-year-old Kanwal Rekhi, who is a guest in their old two-storeyed bungalow. Cows in the backyard provide fresh milk for the curds, Reddy's father tells Rekhi.
Apart from visiting his parents, Reddy works on a social entrepreneurship programme he founded, Kakatiya Sandbox, Nizamabad. It's named after the Kakatiya dynasty under which Telugu culture flourished in the 13th century before it was overrun by the Delhi Sultanate.
DRAWING INVESTORS
What marks the modern-day Kakatiya is the diverse set of organizations and people that Reddy pulls into its 'sandbox' to tackle social problems with an "entrepreneurial mindset". Hence Rekhi's visit to one of the smallest outposts of the global networking and mentorship body, The Indus Entrepreneurs (TIE), which he co-founded in 1992. An iconic entrepreneur and investor like Rekhi coming all the way from San Francisco is a magnet for many others from nearby Hyderabad and other places.
Whether he's dealing with moneyed patrons or millennials who want to make a difference, Reddy believes the key lies in giving them the confidence that their money and time are being put to effective use. "A lot of non-profit organizations and NGOs don't deserve to be supported because they're either corrupt or very personality dependent. So, for me, it's about building an institution."
He's doing it brick by brick, just as he did with IT services company Sierra Atlantic, which employed 2,500 people in multiple countries when Hitachi acquired it in 2011. "Connecting with the community in Nizamabad, building a network of local leaders, supporting other social entrepreneurs and like-minded organisations–everything is incremental," explains Reddy. "Fundamentally, it comes down to your ability to attract, retain and nurture great talent. You need a strong purpose that can draw this great talent, but it's really about people at the end of the day."
There are important differences in a non-profit venture, so it's also a learning and intellectually stimulating experience for him. "The for-profit world is Darwinian: you get feedback signals quickly. If you're not serving your customers, they won't buy, a competitor's product will do better."
The value of a non-profit organization is harder to assess. That's why he pays a lot of attention to scaling and connecting with the right people and organizations on his periodic visits to Nizamabad.
VALLEY KINSHIP
On a drive to a skill development centre, Rekhi asks him if they track the progress of students after they leave the centre, and Reddy cites examples of those who got hired by Amazon and Google. Role models that other students can identify with are vital, agrees Rekhi, who always cites his own humble beginnings in Kanpur to inspire would-be entrepreneurs.
Watching them in the car, I could imagine the Rekhi-Reddy dialogue stretching back over two decades. The first Indian American to take his venture-backed company to a Nasdaq listing, Rekhi was an inspiration to Reddy and one of the first investors in Sierra Atlantic. The two friends continue to collaborate, whether it is co-investing, contributing to think-tanks and governments or philanthropy. It is this sense of kinship that underpins the success of Indians in Silicon Valley.
Reddy feels the Kakatiya Sandbox, inspired by the Deshpande foundation's sandbox in Hubbali, Karnataka, has only scratched the surface. But it's starting to make an impact at scale. One of its initiatives has reached over one lakh cotton farmers in Nizamabad, Karimnagar and Adilabad districts with better farming practices to increase yield.
He hopes to create a model that can be replicated in other parts of the country. "If you have 20 such ecosystems, each touching 10 million people, that's 200 million people or a quarter of the rural population," says Reddy, who is used to thinking in numbers. "And it's not a one-time impact. If we create the right sense of ownership and the right capacity at the local level, then it's amazing how quickly we can see transformation."
PICKING WINNERS
India has always been a part of Reddy's entrepreneurial initiatives. He was working at Intel in California when he stitched together its first major outsourcing deal with Wipro. It later prompted him to start Sierra Atlantic. If Wipro and Infosys could provide software services to global companies out of Bengaluru, why not somebody like him who could straddle Silicon Valley and India? This led him to a 17-year journey culminating in one of the most successful exits for an Indian-American venture.
He became an angel investor after selling the company. One of the first cheques he wrote was for GreyOrange at a time when VCs scoffed at the fledgling robotics startup from India. Today its robots have marched into warehouses across the world.
Although he has picked some early winners, angel investing represents more than making money for him. "I'm fascinated or you could say suckered by 'Pride of India' stories," he says with a chuckle.
Reddy likes to back Indian entrepreneurs addressing global markets. He has an affinity for his alumni, knowing how the quality of its broad-based flexible system worked for him. His recruiter at Intel was also a Bitsian. So he's paying it forward.
A recent investment was in Pixxel, which aims to send a ring of micro-satellites into orbit to provide better imagery for AI analytics in commercial and social use cases. Its founders, Awais Ahmed and Kshitij Khandelwal, were still in Pilani when they started the venture last year.
Reddy and Rekhi were co-investors in RedBus, acquired by Naspers in 2013, whose co-founder Phanindra Sama is a Bitsian. Today Sama is the chief innovation officer for the government of Telangana and a founding patron of Kakatiya Sandbox. These alumni and diaspora networks run deep. They're now out to make an impact at the grassroots level.