Planning A Road Trip to Spiti Valley? Here's All You Need to Know
Sitting atop in the high altitude land of Himachal Pradesh, Spiti Valley is a spellbinding world in itself. The soaring peaks crowned with snow, gleaming Spiti river that nurtures the valley districts of Spiti, and the little villages and monasteries, all give this place a heavenly aura. 
The natural charm of this valley pulls travelers to come and experience both beauty and serenity enfolded in its landscapes. So, if you're planning such an escape from your daily life by visiting Spiti Valley, then you've indeed picked up the right place.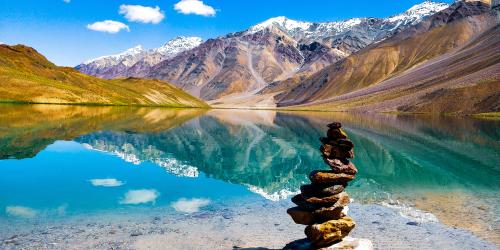 (Image Source: Shutterstock)
To help you plan your Spiti Adventure properly, let us guide you with certain important aspects- 
What Exactly is Spiti Valley?
Spiti Valley is a desert mountain valley, which is located in the north-eastern part of Himachal Pradesh. The valley derives its name "Spiti" which means "The Middle Land" because of its positioning on the land between Tibet and India. Bordered by Ladakh towards the north, Tibet in the east, Kinnaur in the southeast, and the Kullu Valley to the south, the routes leading to this place are picturesque.  
Also, since mountains on all sides enclose it, this region receives heavy snow during the winter season. Therefore, the best time to visit this gorgeous place is in between May and October, when its sunny and bright. 
How to Reach There?
Although Spiti is not that far from the rest of India in terms of distance, however, it is due to the challenging paths and roads that lead up to Spiti, that a road trip to this place is considered as an adventurous journey. Moreover, driving your way through the breathtaking scenic beauty on the way makes the ride ever so worthwhile.
You can reach Spiti mainly by two routes, which are as follows-
This is a more straightforward route to Spiti and is particularly more popular with travelers. The distance from Manali to Spiti is around 200 kms, which means roughly 8 to 12 hours drive depending on whether you're traveling by bus, car or a two-wheeler. Also, since the Rohtang Pass and the Kunzum Valley are covered in snow for most of the year, this route is open only from June to October. 
The distance from Shimla to Spiti is around 420 kms and takes approximately 20 hours by bus and 16 hours by car or jeep. Also, most travelers taking this path stop at Rekong Peo, which makes the arduous journey a little comfortable. Also, since the ascent along this route is gradual, therefore acclimatizing yourself to the valley's extreme conditions won't be difficult.
What to See Once There?
Interesting Villages 
When in Spiti, you should most certainly witness the simple and fascinating life of the locals here. For that, some of the villages you must explore are as follows-
Komic

 – This village may be small in size, but it is Asia's highest village. Also, it has Spiti's highest monastery at 15,049 feet (4,587 meters) above sea level, and is therefore loved by travelers.

Kibber

 — Located close to Kaza at 14,200 feet (4,270 meters) above sea level, this place is popular with travelers because it has many laid-back guesthouses.

Langza

 – This village is famous for its fossils and colorful Lord Buddha statue that presides over it. 
There are many other villages that you can explore during your trip to soak in the relaxed vibes that characterize their life. From Demul, which is Spiti's sustainable village to Lhalung, which has diverse flora, you can enjoy trekking up to them. There are also a few others like Giu, Hikkim, and Dhankar that are also quite popular. 
Also, because the majority of the people here follow Tibetan Buddhism, there are many monasteries too, which you must visit when in Spiti. 
There are five prominent monasteries here, namely, Ki, Komic, Dhankar, Kungri, and Tabo. Filled with mystical rooms and ancient treasures, visiting these will give you a chance to see well-preserved artwork, scriptures, and statutes. When traveling by your vehicle, you can visit these monasteries quite easily, whenever you come across any on the way.  
What All to Do?
This enchanting valley also offers travelers the chance to indulge in many experiences like yak safari, village to village treks, mountain biking, and white-water rafting. 
You can also enjoy cultural performances by locals, which includes group dancing and live singing.  
Where to Stay?
There are many comfortable hotels, guesthouses, and backpacker hostels in the two districts of Kaza and Kibber in the valley. 
However, you may also stay in one of the villages with a local family. Their homestays, though rustic in appearance, still have many similar facilities as offered by guesthouses. It costs around Rs. 3,000 per night, including meals prepared by the families themselves. 
Secure Your Travel Plans with Insurance Cover
There is a different kind of exhilaration when you travel to such a beautiful place in your vehicle. It allows you to stop and enjoy the views whenever and wherever you wish. However, this also means that your car is vulnerable to fall prey to unexpected challenges along the journey. That is why you should buy comprehensive car insurance online to keep yourself covered well in advance.  
A car insurance policy can cover you for any damages or loss suffered by your car or expenses arising due to the accident of the owner-driver or any third-party liability. When buying car insurance online, you can also check for add-on benefits like zero depreciation cover, no claim bonus, and roadside assistance. 
This will ensure that if at all something happens to your car, then it doesn't affect your pocket that much. So, before taking on the meandering roads of Spiti, get your car insured to keep worries aside.