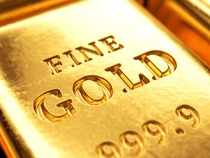 Gold prices in India today edged higher after suffering a big loss on Monday. On MCX, October gold futures prices today rose 0.22% to ₹36,995 per 10 gram, a day after suffering a ₹800 loss. Silver prices today remained flat at ₹44,140 a kg on MCX, after a decline of 3% or nearly ₹1,400 on Monday. After the latest fall gold prices are now down about ₹2,900 per 10 grams from its last month's high of ₹39,885.
Similarly, silver is down about ₹7,300 a kg from its last month's high of ₹51,489 a kg. A decline in global prices of both silver and gold over the past few weeks has hurt domestic prices.
In global markets, gold prices were today hovering around two-month lows after a 1.6% plunge on Monday. Today, spot gold prices were down 0.1% at $1,470 an ounce. A higher dollar and some recovery in global equity markets hurt gold prices. Investors also indulged in some profit-taking. The holding of SPDR Gold Trust, the world's largest gold-backed exchange-traded fund, fell 0.22% to 920.83 tonnes on Monday from 922.88 tonnes on Friday.
The dollar index, which measures the greenback against a basket of six major currencies, was near a more than two-year high today as the uncertainties around the US-China trade war drove some investors to the safety of the dollar.
A higher dollar puts pressure on assets like gold that are priced in the US currency.
On Monday, China warned of instability in international markets from any "decoupling" of China and the United States, after reports said that Trump administration was considering delisting Chinese companies from US stock exchanges.
Back in India, the recent correction in gold prices ahead of the festive season is expected to lift demand. Some gold dealers have reported seeing an uptick in orders from jewellers as they stock up ahead of the festive season. The sharp rise in gold prices, which rose to a record high of ₹39,885 last month, has hurt retail demand. Despite the recent dip in prices, gold prices are up 17% so far this year. (With Agency Inputs)