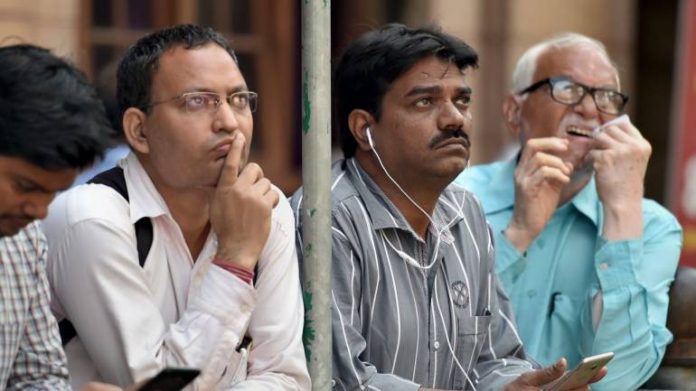 Among sectors, except IT and auto other indices are trading lower led by the metal, infra, FMCG and energy.
Alembic Pharmaceuticals gets no observations from USFDA: Share price of Alembic Pharmaceuticals added 3 percent on August 21 after company received no observation from USFDA for its Vadodara facility.

These 12 Nifty stocks trading at discount to 5-yr avg P/E; time to buy?

The golden rule of investment is to pour money in stocks that are trading at attractive levels compared to their intrinsic value, thus allowing investors to create wealth over a period of time

HCL Technologies launches delivery centre in New Zealand: HCL Technologies announced the opening of a new delivery centre in Hamilton, New Zealand.

It will support global customers and partners and provide access to the latest IT services and digital business technologies, which will drive innovation and customer centricity through design thinking, blockchain, cybersecurity, cloud and artificial intelligence.

Buzzing: Shares of NMDC fell over 1 percent on August 21 after Karnataka government withdraw the approval to extend the mining lease.

Global analysts cut Nifty FY20 EPS estimates, lower GDP growth target after Q1

Most global brokerages cut earnings estimates for the current financial year and economic growth forecast given lower-than-expected earnings in Q1.

Promoter increases stake in United Spirits: Shares of United Spirits gained 3.4 percent on August 21 after promoter Relay BV acquired more shares and increased stake in the company.

Buzzing: Sun Pharma Advanced Research Company declined more than 3 percent on August 21 after complaint filed by the US company in US District Cour

Chart check: Tata Motors could be a contra play; avoid buying Indiabulls Housing

Indian markets closed flat but with a positive bias on August 19. Sensex rose over 50 points while Nifty closed with modest gains of 6 points.

Market Opens: Indian indices start the day on a flat note on August 21

The Sensex is down 19.64 points at 37,308.37, while Nifty down 10.90 points at 11,006.10. About 269 shares have advanced, 376 shares declined, and 26 shares are unchanged.

Biocon, Alembic Pharma, Sun Pharma, Maruti Suzuki, Infosys, TCS, NTPC, Power Grid, Bajaj Auto and Hero MotoCorp are among major gainers, while losers include Britannia, Yes Bank, Hindalco, Tata Motors, Vedanta, SPARC and Asian Paints.

Among sectors, except IT other indices are trading lower led by the metal, FMCG and energy.

Rupee opens higher: The Indian rupee gained in the early trade on Wednesday. It has opened higher by 25 paise at 71.45 per dollar versus previous close 71.70.

Market at pre-open: Benchmark indices are trading flat with positive bias in the pre-opening session.

At 09:02 hrs IST, the Sensex is up 60.73 points or 0.16% at 37388.74, and the Nifty up 10.80 points or 0.10% at 11027.80.

Market Headstart: Nifty likely to open flat; United Breweries, Asian Paints top sell ideas

Trends on SGX Nifty indicate a flat opening for the broader index in India, with a 0.10 percent loss or 11 points. Nifty futures were trading around 11,017.50-level on the Singaporean Exchange.

Brokerages View: Source: CNBC-TV18:

Citi on NMDC
Buy rating, target at Rs 120 per share
State government cancels Donimalai; await central government hearing
If co loses the Donimalai lease, more immediate impact would be on volumes
Most of company's Chhattisgarh leases are valid only until March 2020
Pending clarity on the eventual outcome, expect stock price volatility

Citi on Dr Reddy's
USFDA issued a Form 483 with eight observations for Duvvada unit
Nature of observations for Duvvada unknown but likely sentiment dampener
Most observations are not meaningfully disruptive
This could be an overhang on the stock in the near term

HSBC on SBI
Maintain buy, target at Rs 400 per share
Improving performance amid subdued external climate has led to a hesitant rerating
Expect a loans CAGR of 13% over FY19-22 & NIM up 30 bps

Morgan Stanley on Adani Ports
Overweight call, target at Rs 408 per share
In our base case, build in a 20% earnings CAGR for FY19-21
As per reports, co looks to buy 72% stake in Krishnapatnam port

Morgan Stanley on NTPC
Equal-weight Call, target at Rs 147 per share
Faster-than-expected Capacity additions & strong demand are upside risks
Sluggish demand & value-dilutive acquisitions are downside risks

Credit Suisse on India Strategy
Consensus Nifty FY20 EPS growth down to 25% from 31%; FY21 at 22%
Have been expecting it to settle in the high-teens
Given the weak economic momentum, there are downside risks estimates
Some eco weakness is de-stocking, which will become sharply positive when it turns
Turning point is not visible yet

Stocks in the news: SPARC, SpiceJet, Alembic Pharma, Dr Reddys Labs, United Spirits, Deepak Nitrite

Alembic Pharma | Dr Reddy's Labs | United Spirits | HDIL | Deepak Nitrite | IOL Chemicals and Freshtrop Fruits are stocks which are in the news today.

Asian markets trade lower: Asian shares fell on Wednesday as fresh worries about a global recession led investors to dump risky assets, with U.S. President Donald Trump showing no signs of backing down in his trade war with China.

What changed for the market while you were sleeping? Top 10 things to know

The market snapped three-day winning streak and closed lower on August 20, weighed by banking & financials, FMCG and metals stocks. The weakness in rupee to 71.80 against the US dollar also caused selling pressure in the market.

Wall Street rally ends as financial shares slide: Financial shares led US stocks lower on Tuesday to end a three-day rally as investors awaited comments from Federal Reserve Chair Jerome Powell at the end of the week.

SGX Nifty: Trends on SGX Nifty indicate a flat opening for the broader indices in India, a fall of 19 points or 0.17 percent. Nifty futures were trading around 11,009.50-level on the Singaporean Exchange.

Good morning and welcome to the live coverage of all the action from D-Street. Stay tuned to this blog for all live updates from the market in India and around the world.