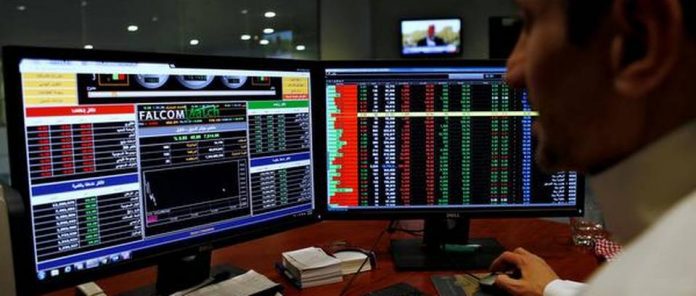 Closing bell:  Domestic equity benchmarks BSE Sensex and NSE Nifty ended the day on a flat note as investors turned jittery on weak domestic and global cues amid continued foreign fund outflow.
The 30-share index ended up 22.77 points, or 0.06 per cent, at 39,839.25. Similarly, the broader Nifty too closed 6.45 points higher, or 0.05 per cent, up at 11,916.75.
Top gainers in the Nifty pack includes InduaBulls Housing Finance, IndusInd Bank, ITC, Zee and Grasim, rising up to 7.50 per cent.
On the other hand, Eicher Motors, GAIL, Tech Mahindra, Vedanta and Dr Reddy's fell up to 2.74 per cent.
The Sensex hit an intraday high of 39,934.99 and a low of 39,732.38. Similarly, the Nifty touched an intra-day high of 11,945.20 and a low of 11,887.05. The market breadth was neutral as 956 shares advanced, against a decline of 771 shares, while 362 shares were unchanged.
According to traders, investors were cautious ahead of the Union Budget, scheduled for Friday.
Domestic investors followed cues from other Asian equities which remained volatile amid fears of a global economic slowdown amid weakening global manufacturing growth, they said.
ICICI Bank, IndoStar Capital join hands for commercial vehicle financing
ICICI Bank has tied up with non-banking financial company IndoStar Capital for vehicle financing for small and medium fleet owners to buy new as well as old commercial vehicles.
Under this partnership, IndoStar will originate and service the customers through the entire loan life-cycle including sourcing, documentation, collection and loan servicing, ICICI Bank said in a release.
Indiabulls Fin to buyback Rs 2,705 cr of NCDs, masala bonds
The second largest pureplay mortgage lender Indiabulls Housing Finance Wednesday said it will buyback debt worth Rs 2,705 crore from the investors before their maturity.
The company will buy back non-convertible debentures (NCDs) and masala bonds maturing this September aggregating to Rs 1,375 crore which includes Rs 660 crore issued by way of a public issue.
Besides, the company is also giving early redemption option to investors to buy back Rs 1,330 crore of Masala bonds maturing in October.
"On the back of strong cash position, we will now offer investors to buyback (early redemption) of NCDs and masala bonds, subject to applicable laws and debenture/bond holders consent," the statement said.
Nifty gainers and losers @ 2.45 pm
USFDA completes inspection of JB Chemicals' Panoli facility without any observations
JB Chemicals & Pharmaceuticals on Wednesday said the US health regulator has concluded inspection of its manufacturing facility at Panoli in Gujarat without any observations.
The US Food and Drug Administration (USFDA) has concluded inspection of company's newly set-up and commissioned solid oral dosage forms formulations manufacturing facility at Panoli, Gujarat, JB Chemicals & Pharmaceuticals said in a BSE filing.
Zydus Cadila
Welspun India receives US court's preliminary approval for litigation settlement
Textile firm Welspun India Wednesday said it has received preliminary court approval for settlement of its litigation in the US with regards to labelling and marketing of Egyptian cotton products.
In May this year Welspun India had announced that company and its subsidiaries, which have been facing litigation in the US surrounding its premium cotton home textile products, have entered into a settlement agreement in the US.
The settlement agreement provides monetary payments to settlement class members not exceeding USD 36 million (about Rs 250 crore).
gets USFDA final nod to market ulcer drug
Zydus Cadila has received the final approval from the USFDA to market Misoprostol tablets. It is used to prevent stomach ulcers in patients taking pain medications. It also helps to decrease risk of serious ulcer complications such as bleeding. The drug will be manufactured at the group's formulations manufacturing facility in Ahmedabad.
The group now has 268 approvals and has so far filed over 360 ANDAs since the commencement of the filing process in FY 2003-04.
Trends in Bank Nifty stocks
MTNL surges on report of govt's bailout plans
Shares of state-owned Mahanagar Telephone Nigam Ltd (MTNL) on Wednesday spurted as much as 9.9 per cent to a three-week high of ₹9.4.
Earlier, Union Telecom Minister Ravi Shankar Prasad iinformed the Lok Sabha that a comprehensive revival plan is underway for PSU telecom players. Read more here
Day Trading Guide for July 03, 2019
₹2494 • HDFC Bank
S1
S2
R1
R2
COMMENT
2480
2466
2510
2525
Fresh long positions are recommended with a fixed stop-loss only if the stock moves beyond 

₹

2,510 levels
₹739 • Infosys
S1
S2
R1
R2
COMMENT
731
725
745
752
Make use of intra-day dips to buy the stock of Infosys while maintaining a stiff stop-loss at 

₹

731 levels
₹273 • ITC
S1
S2
R1
R2
COMMENT
271
268
277
280
Initiate fresh short positions with a fixed stop-loss only if the stock of ITC falls below 

₹

271 levels
₹165 • ONGC
S1
S2
R1
R2
COMMENT
163
160
167
170
Consider initiating fresh long positions with a stiff stop-loss if the stock reverses higher from 

₹

163 levels
₹1278 • Reliance Ind.
S1
S2
R1
R2
COMMENT
1265
1250
1295
1310
Initiate fresh long positions with a tight stop-loss if the stock rebounds up from 

₹

1,265 levels
₹364 • SBI
S1
S2
R1
R2
COMMENT
358
353
370
375
Make use of intra-day declines to buy the stock of SBI while retaining a fixed stop-loss at 

₹

358 levels
₹2252 • TCS
S1
S2
R1
R2
COMMENT
2230
2210
2270
2290
The stock witnesses buying interest at lower levels. Buy in declines with a fixed stop-loss at 

₹

2,230 levels
11942 • Nifty 50 Futures
| | | | | |
| --- | --- | --- | --- | --- |
| S1 | S2 | R1 | R2 | COMMENT |
| 11900 | 11850 | 12000 | 12050 | Consider initiating fresh long positions with a stiff stop-loss if the contract reverses higher from 11,900 levels |