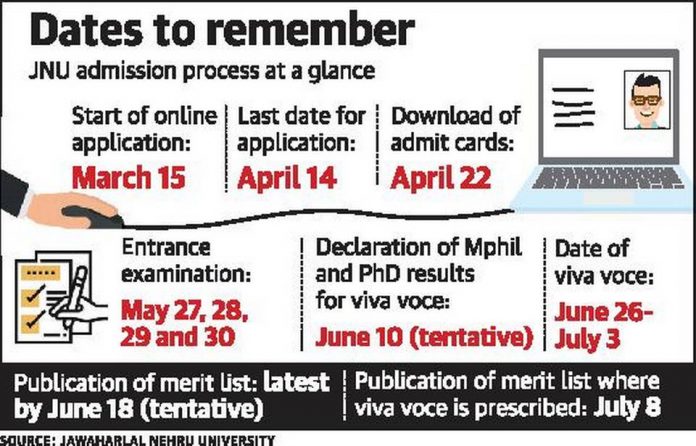 Over 3,000 seats on offer; process will be entirely online
Jawaharlal Nehru University (JNU) on Wednesday announced that its admission process for academic year 2019-20, which will be conducted online for the first time, will begin on March 15.
The online registration process for JNU Entrance Examination (JNUEE) 2019-20 will be available via the website of the National Testing Agency along with the e-prospectus, the university said in a statement.
The last date for application is April 15.



Entrance exam
The JNUEE will be conducted in 127 cities across India. In previous years, the test has been conducted in around 51 cities, the university said. Date of examination is May 27, 28, 29 and 30.
"The total seat intake for this academic year is 3,383. Out of this, 1,043 seats are for MPhil and PhD courses. JNU will be conducting the 2019 entrance examinations in the format of a computer-based test in partnership with the National Testing Agency (NTA)," the university stated.
The computer-based test will comprise multiple choice questions in all disciplines and will not require any special knowledge of computers or technical proficiency, said the university.



'Complete objectivity'
"The MCQ format will bring complete objectivity in the examination process, making our system further transparent. The NTA has excellent mechanisms of displaying correct answers of the question papers post examination that can be reviewed by all student applicants," the Director of Admissions (JNU) said.
The university further stated that for the benefit of all students, the NTA will give aspirants access to test practice centres where they will be able to familiarise themselves with the computer-based test.