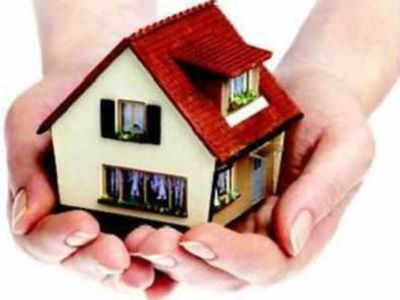 HIGHLIGHTS
Careful planning can help home loan borrowers clear the huge debt before schedule
Directing lump sum inflow towards prepayment is key to reduce home loan outstanding amount
NEW DELHI: Even before they bought their first house in Jaipur in 2008, investment banker Yash Jain and his wife Namrata were determined to repay the Rs 25-lakh loan before its tenure of 20 years ended. They stuck to their plan and prepaid the loan within four years, without choking their cashflows. "We used our yearly bonuses of Rs 2.2 lakh, incentives of Rs 65,000 as well as monthly surpluses to make part payments regularly," Jain explains. In the process, the couple saved an estimated Rs 21 lakh in interest.
The couple's approach is not unique. With planning and discipline, it is not a difficult target to meet.
Power of part payment
You don't have to wait for a windfall to prepay a loan. Small but regular payments can go a long way. This is exactly what the Jains did. In 2008, their joint annual income was over Rs 14.40 lakh and their loan EMI and rent for their Mumbai flat worked out to Rs 21,000 and Rs 22,000 respectively. Their monthly household expenses amounted to Rs 50,000. In 2014, the couple invested in a residential property in Hyderabad and later a commercial property in Bhopal, funding both through savings, sale proceeds of the Jaipur property as well as a plot of land the family owned. Today, the investments fetch the couple a rent of Rs 40,000 per month.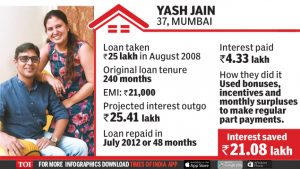 Directing lump sum inflow towards prepayment is key. Noida-based chartered accountant Amardeep Singhal used lump sum payments to reduce his home loanoutstanding from Rs 33 lakh to Rs 18 lakh.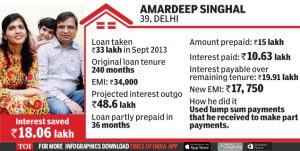 "I received arrears from clients in two tranches of Rs 10 lakh and Rs 5 lakh in 2016. I decided to use this to reduce my loan burden," says Singhal. His decision entailed a compromise putting off buying a car. A home loan of Rs 50 lakh with an interest rate of 9% and a 20-year tenure can be paid off within 9.3 years by making a prepayment of Rs 3 lakh at the end of every 12th EMI while keeping the EMI constant (see graphic).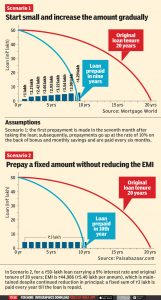 Bank on savings
Mumbai resident Rohit Mehta had planned to arrange funds for buying a house and repay it at the earliest before he took a loan of Rs 20 lakh. "I did not use all my accumulated savings. After taking the loan, I used the amount to make part-prepayments of Rs 15 lakh through the period," he says. If you haven't planned as efficiently as Mehta, do not despair. Old investments can also be unearthed and liquidated to make prepayments.
Increase EMI, reduce tenure

If you neither have accumulated savings nor funds, you can still prepay the loan. "If a borrower with a Rs 50-lakh loan at an interest rate of 9% and tenure of 20 years decides to increase the EMI by 15% annually, the loan can be closed in the 97th month," says Vipul Patel, Founder, Mortgageworld. If raising the EMIs by 10-15% looks difficult, you must ensure that rate hikes do not extend your tenure. "When interest rates go up, don't extend the tenure, but maintain or, rather, increase the EMI amount. In case rates are reduced, opt for a shorter tenure instead of reducing EMI. This will help you pay off the loan faster," says Nirmal Rewaria, co-founder, Finpeace Technologies.