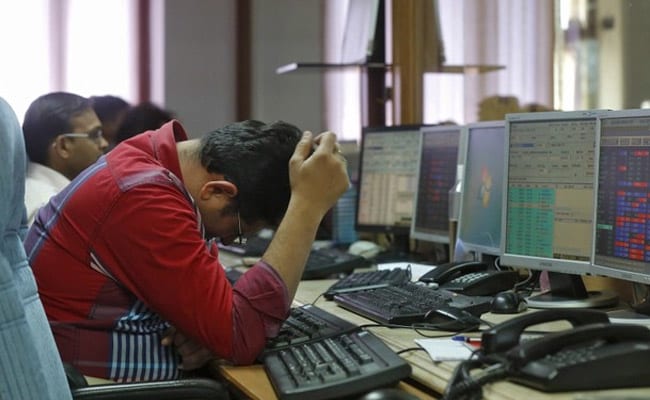 Stock markets moved sharply lower on Thursday amid a selloff witnessed across sectors and weak global cues. BSE benchmark index Sensex tanked as much as 858 points to touch 35,116 – a level last seen on July 2. The NSE Nifty plummeted 267 points to hit an intraday low of 10,591 – its lowest since July 9. The rupee hit another record low, amid weak global cues, boiling crude prices and fears of a widening current account deficit. Concerns over the Reserve Bank of India (RBI) adopting an aggressive stance in its monetary policy statement due to a rise in inflationary pressure led to erosion in investors' risk-taking appetite, according to analysts.
Here are 10 things to know about Thursday's trading session:
A selloff across the board dragged the indices lower. On the 50-scrip Nifty index, forty two stocks traded in the negative zone in afternoon. Top laggards included Eicher Motors, Reliance Industries, Hero MotoCorp, Dr Reddy's, Adani Ports and TCS – trading between 4 per cent and 8.5 per cent lower.
The Nifty Bank – the NSE's index comprising banking stocks – was down 1.9 per cent.
The rupee weakened further to register a new all-time low of 73.77 against the dollar. That along with concerns on widening of the current account deficit due to soaring crude oil prices worried investors, say analysts.


"The fresh record low of rupee, hardening bond yields, weak Asian Market cues and the ever present risk of rising crude led to the fall today", Viral Berawala, CIO at Essel Mutual Fund, told NDTV.
Oil prices have reached four-year peaks. Brent – the international benchmark for crude oil – eased 18 cents to $86.11 a barrel on Thursday.
High crude oil prices along with rupee depreciation make oil imports costlier. India meets more than 80 per cent of its oil demand through imports.


Caution prevailed in the markets ahead of RBI's statement due on Friday. Analysts expect the central bank to hike the repo rate by 0.25 per cent. "Investors are cautious ahead of RBI policy as increase in repo rates to control depreciating rupee can act as a dampener for some green shoots seen in economy," added Mr Berawala.
Commerce and Industry Minister Suresh Prabhu will hold an inter-ministerial meeting later in the day to discuss trade deficit and its impact on rupee as well as ways to boost exports.
The RBI Wednesday relaxed its policy on borrowing from overseas to allow state-owned fuel retailers to raise up to $10 billion external debt for working capital needs. It had earlier that it would pump

Rs.

36,000 crore into money markets in October.


Globally, the dollar notched an 11-month top on the yen on Thursday as strong US economic data drove Treasury yields to their highest since mid-2011. Asian stocks were pressured as borrowing costs rose at home.