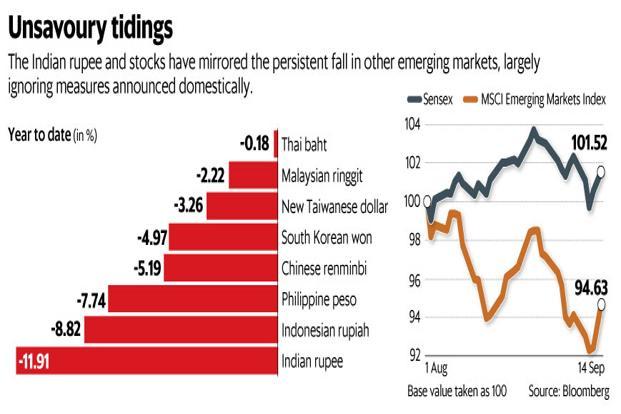 The government's efforts to prop up a battered rupee cut no ice with the stock markets, especially when the US was busy intensifying its trade war with China. Making a mockery of the five-point plan that the government announced on Friday, the rupee weakened nearly 1% from its previous close, which was enough to send benchmark stock indices down more than 1%.
The measures were aimed at attracting capital inflows to finance the widening current account deficit. But the government also promised that it would reduce reliance on imports through curbs on certain non-essential items.
Market participants read the measures as a desperate effort to do damage control for the rupee with some of the steps being viewed as detrimental instead of salutary.
Doing away with the requirement to hedge dollar borrowings for infrastructure companies was seen as piling on more risk on their already dodgy balance sheets. Many in the infrastructure sector are struggling to honour rupee loan repayments and allowing them to be exposed to currency risk through unhedged dollar borrowings is sure to worsen the problem in the future.
In short, the measures were largely short-term fixes that are unlikely to lure dollars into the country when there is a widespread malaise globally against all emerging markets.
Indeed, the Indian currency was the second-worst performer among Asian units on Monday, while the South Korean won fell the most. Most emerging market currencies and stocks dropped.
Domestically too, the fall in indices was led by heavyweights Reliance Industries Ltd, Housing Development Finance Corp. Ltd and HDFC Bank Ltd. The fact that Goldman Sachs turned hostile towards Indian equities by downgrading the country's stocks to market-perform from outperform added another blow.
Considering that there was no relief on the exchange rate front and with global crude oil prices rising, bond traders have now begun to price in two consecutive rate hikes by the Reserve Bank of India in October and December.
Bond losses on banks' books are likely to pile up and the only succour was the central bank's offer to buy bonds through open market operations.
The measures to fix the depreciating rupee have clearly underwhelmed the markets.
According to a bond trader, during widespread risk aversion it is better to not swim against the tide.
For now, the government's efforts to bolster the Indian currency aren't helping.