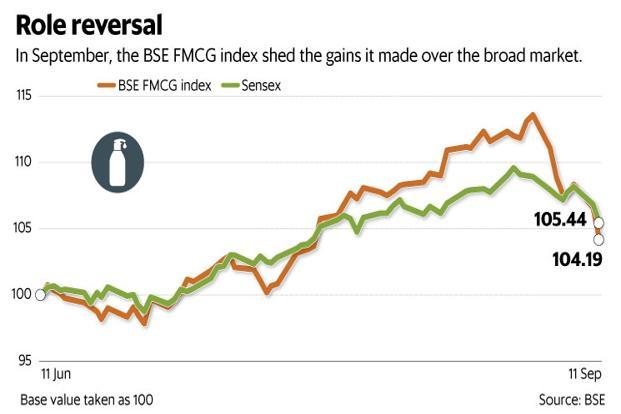 FMCG (fast-moving consumer goods) firms are no strangers to inflation. A falling rupee and the increase in crude oil prices are expected to lead to higher costs, usually passed on to consumers. The difference this time is that they will be doing so under the watchful gaze of the government's anti-profiteering regulator.
The timing is delicate as general elections are due in 2019. If consumers feel the pinch and politicians stir the pot, the government could turn the screws on the sector. GST (goods and services tax) and price hikes in the same sentence (or slogan!) could well provoke an allergic reaction.
The increase in crude oil prices means that crude oil-linked intermediates are likely to turn expensive, affecting input costs for fabric and personal care products. Higher fuel prices will add to freight costs. Packaging costs will also go up. The depreciating rupee only worsens the effect as prices are linked to import-parity rates, not just for crude oil-related derivatives but even others such as palm oil derivatives. On the brighter side, inflation is not a risk in food-related products.
For large FMCG firms, inflation can be an opportunity except when broad-based inflation takes root and eats up consumer demand, but that does not seem a worry yet. When there are pockets of inflation, firms can increase prices—even when they may have bought raw materials at older rates due to forward contracts—and take margins up. Smaller companies feel the pinch more immediately, as they buy more near term.
Eventually, of course, higher prices feed into everybody's costs but the larger firms are usually ahead of the curve.
That may prove difficult to do now. If an investigation is ordered on the basis of a complaint and documents are called for, and it emerges the company's actual costs had not risen proportionately, then it could be made out as a case of profiteering. Under the anti-profiteering law, the benefit of lower tax rates and input tax credits have to be fully passed on to consumers. The pre-GST and post-GST price is what will be considered.
Firms have played it safe and kept a low profile on price hikes, aided by stable input prices. Now that it has changed, they have begun talking about hiking prices and by the time the September quarter results are announced, evidence of hikes will become available.
The September quarter results will also mark the start of a normal base. In the June quarter, a low base meant firms posted high volume growth rates with little contribution from price hikes. With volume growth turning normal, the effect of price hikes or the lack of it will become visible. This could mark a turning point for the financial performance of consumer goods companies, depending on how they are able to play the inflation problem.
While the next few quarters should yield answers on whether price hikes raise the government's hackles, the very notion of anti-profiteering in a free market does not make sense. Competition should be enough to take care of price setting and the Competition Commission of India exists to address any cartelization that pushes prices up.
Consumer goods prices have a political risk attached. Consider Malaysia's experience with GST, where the rate was cut to 0% from 6% by a new government to fulfil a poll promise to people who were apparently unhappy with rising prices, which they attributed to GST. That's not the case in India where prices of many consumer goods fell after GST was introduced. Differential rates and exemption on essential items should also help.
However, how consumers will react to an across-the-board increase in prices is unclear. The opposition could very well play it up. Given high valuations, FMCG firms have very little room for error. Their shares have been falling along with other sectors, due to selling of equities in emerging markets. Healthy volume and price growth leading to earnings growth is what is required to hold up FMCG valuations. Any challenge to that is a risk for investors.