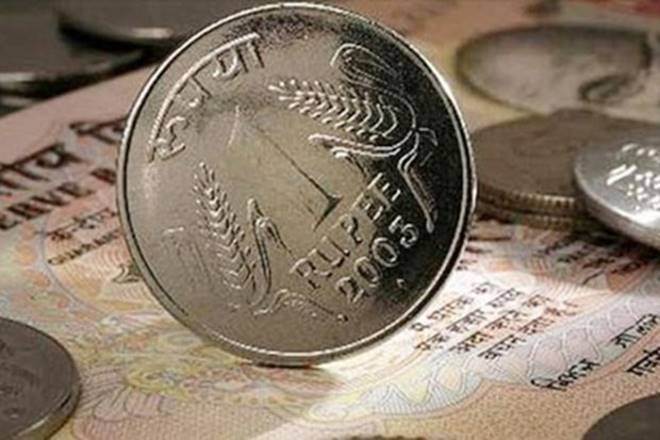 4:05pm: Indian rupee trading lower by 73 paise at 72.46 versus previous close of 71.73.
It has seen some recovery after touching record low of 72.67 during the day.
1:45pm: Indian rupee recovered marginally  after hitting fresh record low of 72.67 per dollar in the morning trade. It is currently trading around 72.30 per dollar.
12:20pm: Indian rupee is expected to trade with a negative bias amid strong dollar and worries over fiscal slippages. Further, forex market sentiments will be hurt on account of rising worries over trade tensions between the US and its major trading partners along with escalating geopolitical tensions, according to Sharekhan report.
Additionally, surge in crude oil prices will hurt rupee. As per the Real Effective Exchange Rate (REER), based on a basket of currencies of 36 trading partners, rupee is overvalued. Traders will remain cautious ahead of economic data from India. The expected trading range in the near term is 70.90-72.70, it added.
12:01pm: The rupee weakened further to hit a fresh record low of 72.58 against the US dollar, down 1.1 percent (81 paise).
"The US non-farm payroll data being better than expected is making the market expect two more interest rate hikes by the US Federal Reserve. One could happen in September and one in December meet. The RBI is nearly non-existent (in its intervention in the currency market) and hence there is speculative buying happening in the market," Rushabh Maru, Research Analyst at Anand Rathi Shares and Stock Brokers told Moneycontrol.
11:50am: The rupee is getting clobbered along with other currencies in the emerging markets pack. High oil prices is affecting the currency idiosyncratically, which is an added factor. Overall, it is the selloff in EM currencies in Argentina, China, South Africa and Brazil, among others that is driving the selloff. Additionally, a combination of intensifying trade wars and strong US economic data supporting interest rate hikes is also leading to the selloff, Anindya Banerjee, Deputy Vice President, Currency Derivatives, at Kotak Securities told Moneycontrol.
Further, supply vacuum of the dollar is also adding to the woes and leading to speculative moves. "Exporters had hedged their positions when the rupee was trading below 69 per dollar, while importers were grossly unhedged. So, the demand is now coming in from importers, while exporters are looking to cancel it," he further explained.
11:10am: Continuing its downtrend, the rupee fell to a fresh record low of 72.45 per dollar, down 1 percent (72 paise) from the Friday's close 71.73 per dollar.
10:35am: Rupee plunged nearly 1 percent intraday Monday, hitting fresh record low of 72.41, down 67 paise, on the back of strong demand for US currency.
10:20am: Rupee continues its freefall, hitting fresh record low of 72.35, down 62 paise from Friday's close of 71.73.
9:40am: Indian currency slipped further to a fresh record low of 72.28 per US dollar.
9:00 am: The Indian rupee opened at a fresh record low of 72.18 per dollar on Monday, down 45 paise from previous close 71.73.
On Friday, rupee consolidated in a narrow range and appreciated marginally against the US dollar, ahead of the important non-farm payrolls number that showed the US economy added 201,000 jobs in August, said Motilal Oswal.
On the other hand, unemployment rate fell to 3.9% in August compared to 3.8% in the previous month. The dollar rose against its major crosses following robust jobs number that strengthened prospects that the Federal Reserve would consider raising twice rate this year.
Today, USD-INR pair is expected to quote in the range of 72.05 and 72.50, it added