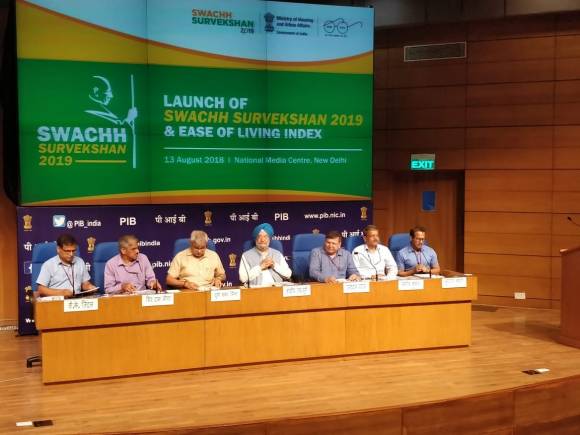 Gurgaon has been ranked 88 and Ghaziabad 46. Kolkata was not part of the report.
City of knowledge Pune is the most liveable city in India followed by Navi Mumbai and Greater Mumbai as per the Ease of Living Index launched by Housing and Urban Affairs Minister Hardeep Singh Puri on August 13.
Four cities from Maharashtra including Pune, Navi Mumbai, Greater Mumbai and Thane were among the top 10 cities. Delhi is ranked 65, Gurgaon 88 and Ghaziabad 46, the report said. Kolkata was not part of the report.
The survey ranked 111 cities in the country on the basis of four parameters – institutional, social, economic and physical – which is further broken into 15 categories and 78 indicators, Puri told Moneycontrol.
The categories included governance, identity and culture, education, economy and employment, waste water management, health, security and safety, reduced pollution, mixed land use, transport and mobility, solid waste management, power supply, housing and inclusiveness, assured water supply and open public spaces.
Other cities that made the top 10 ranking included Tirupati at number 4, Chandigarh at number 5, Raipur at number 7, Indore at number 8, Vijaywada at no 9 and Bhopal at number 10.
The Ease of Living Index is an initiative of the Ministry of Housing and Urban Affairs (MoHUA) to assess their liveability vis-à-vis global and national benchmarks and encourage cities to move towards an "outcome based" approach to urban policy and management.
The initiative was launched in June 2017 and the implementation of the assessment formally commenced on January 19, 2018 covering 111 cities.
A data entry portal and a monitoring dashboard for real time update on progress was established. The cities submitted data on more than 50,000 points. Secondary audit of 10,000 documents, physical audit of 14,000 units and survey of over 60,000 citizens was completed and that led to finalising the index, ministry sources explained.
The Ease of Living assessment standards are closely linked to sustainable development goals (SDGs) and seek to provide impetus to India's effort for systematic tracking progress of SDGs in urban areas. Of the 17 SDGs, 8 goals are linked to India's ease of living assessment framework with SDG 11 that is aimed at making cities and human settlements inclusive, safe, resilient and sustainable, Puri said.