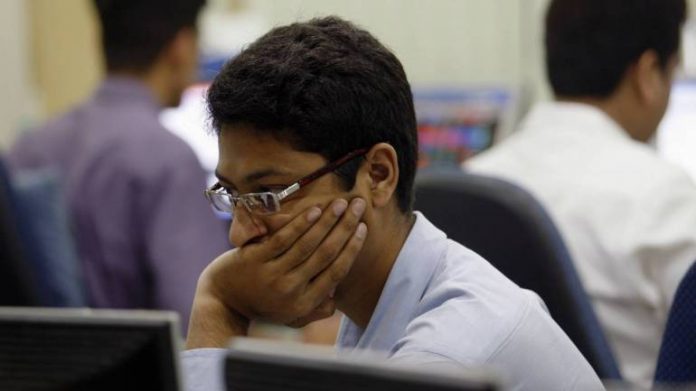 India VIX moved up by 3.39 percent to 12.49. Overall lower volatility suggests that bulls are likely to hold the market on declines near to major support zones.
The Nifty50 after opening above 11,400 levels for the first time maintained positive momentum throughout the session on Monday but failed to hold that opening levels, forming a small bearish candle on an intraday basis, which also resembles a Spinning Top kind of pattern on the daily charts.
The index closed higher but the closing value is lower than opening which indicated that traders preferred to book profits at higher levels. It has to hold 11,400 levels on closing basis then only strong momentum can be possible, experts said.
Nifty index opened gap up and made a new life time high of 11,428 by surpassing recent high of 11,390 levels. However it failed to hold its half of the gains and witnessed some profit booking to decline from higher levels.
Spinning Top is often regarded as a neutral pattern which suggests indecisiveness on the part of both bulls as well as bears. It can be formed in an uptrend as well as in a downtrend.
The Nifty50 after opening at 11,401.50 gained more strength to touch an intraday record high of 11,427.65 but it wiped out some gains in afternoon trade to hit day's low of 11,370.60. The index closed 26.30 points higher at 11,387.10.
"Nifty50 appears to have witnessed a profit booking as it traded into uncharted territory with a gap up opening before signing off the session with a small bearish candle," Mazhar Mohammad, Chief Strategist – Technical Research & Trading Advisory, Chartviewindia.in told Moneycontrol.
He said hence, in the next session if the said index consistently trades below 11,368 levels atleast for one hour then it can come under pressure for the day. "In such a scenario test of recent low of 11,234 can't be ruled out going forward as bulls try to consolidate their position further before resuming their upmove."
However, for time being as upsides appear to be capped in the zone of 11,450–11,500 levels it looks prudent on the part of traders to book profits and wait more directional clarirty or a dip towards 11,250 kind of levels, Mazhar advised.
Gaurav Ratnaparkhi, Senior Technical Analyst, Sharekhan said in terms of the wave structure, with today's move, the index has entered into a fifth leg of an Impulse on the upside. "The internal structure of the fifth leg, however, shows that it is not yet complete."
This means that the Nifty has a potential to tap at the short term target of 11,450, he feels.
India VIX moved up by 3.39 percent to 12.49. Overall lower volatility suggests that bulls are likely to hold the market on declines near to major support zones, experts said.
On option front, maximum Put open interest (OI) was seen at 11,000 followed by 11,200 strike while maximum Call OI was at 11,500 followed by 11,400 strike. Put writing was seen at 11,300 followed by 11,400 strike whereas Call writing was seen at 11,500 followed by 11,600 strike.
"The index is making higher highs while relative strength index is making lower highs which indicates absence of momentum thus a cautious trade on the market if an immediate support is broken," Chandan Taparia, Associate Vice President | Analyst-Derivatives, Motilal Oswal Securities told Moneycontrol.
Now till it holds above 11,300 zones it can extend its move towards 11,435 then 11,500 zones while on the downside major support is seen at 11,250 then 11,171 zones, he feels.
Bank Nifty opened positive and extended it gains to hit a fresh lifetime high of 27,994 levels. It formed a Bullish Candle on daily scale and outperformed the benchmark index to settle near 27,900 zones.
"Now it has to hold above 27,750 zones to extend its move towards 28,000 then 28,250 zones while on the down side supports are seen at 27,650 then 27,440 zones, Taparia said.