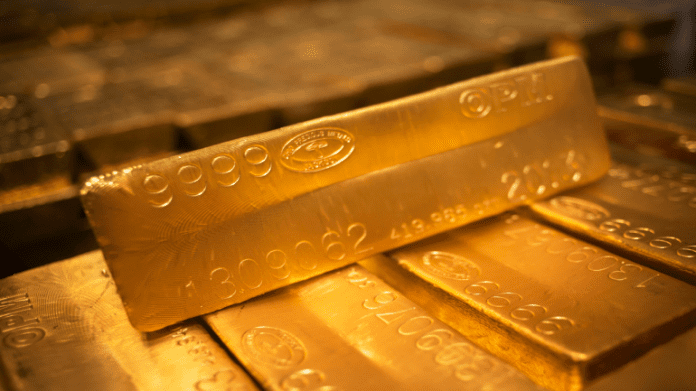 Spot gold was down 0.4 percent at $1,208.70 an ounce by 1350 GMT after climbing as high as $1,217.85 in early trade.
Gold prices ticked lower on Monday under pressure from selling by investors as well as a firmer dollar and another escalation in the trade conflict between China and the United States.
Spot gold was down 0.4 percent at $1,208.70 an ounce by 1350 GMT after climbing as high as $1,217.85 in early trade. US gold futures shed 0.5 percent at $1,217 an ounce.
"Overall the bears remain in control and they continue to increase their short positions – both the net and gross are hitting records," said Ole Hansen, head of commodity strategy at Saxo Bank in Copenhagen.
Hedge funds and money managers added a hefty 13,931 contracts to their net short position in the week to July 31, bringing it to 41,087 contracts, the biggest since records became publicly available in 2006, data showed on Friday.
Gold has been in a downtrend since touching a peak of $1,365.23 on April 11. It has shed over 11 percent and hit a 17-month low on Friday.
"We bounced off the $1,205 level on Friday and that is just a red flag to the bears right now. They are taking aim at that level and gold is likely to struggle unless we see a clear change in the view on the dollar," Hansen added.
The dollar rose on Monday, building on two consecutive weeks of gains, as investors bet that trade war rhetoric and a strong US economy would continue to drive the currency higher.
Investors have largely been buying the dollar as a safe haven asset rather than gold as the US-China trade dispute escalates.
China proposed retaliatory tariffs on $60 billion of US goods on Friday, after US President Donald Trump's administration proposed a higher, 25 percent tariff on $200 billion of Chinese imports.
Chinese state media on Monday lambasted Trump's trade policies in an unusually personal attack.
Holdings in SPDR Gold Trust, the world's largest gold-backed exchange-traded fund (ETF), fell 0.26 percent to 794.90 tonnes on Friday.
"We envisage significantly higher gold prices by year's end, though for this to happen the ETF outflows would also have to end, which has not been the case so far," Commerzbank said in a note.
"Following outflows of over 29 tons in July, holdings have already been reduced by more than 8 tons in the first days of August." In other precious metals, silver fell 0.4 percent to $15.32 an ounce.
"Silver is doing reasonably well. Normally we'd find silver underperforming when gold is sold off, but the selling appetite seems to be relatively muted," Hansen said.
Palladium declined 0.6 percent to $904.20 an ounce, while platinum dropped 0.7 percent to $821.12 an ounce.