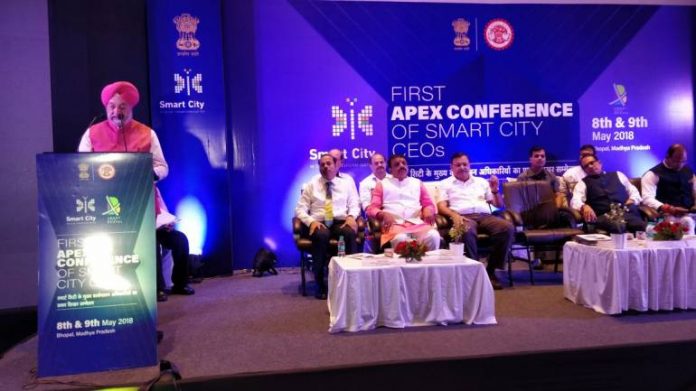 Puri said that about 400 projects valued at Rs 20,000 crore are in tendering stage, which would be settled over two to three months
The value of projects under implementation under the Smart Cities Mission has increased almost four times from about Rs 8,000 crore to over Rs 30,000 crore involving 936 projects, housing and urban affairs minister Hardeep S Puri said on Tuesday at the first of its kind conference of the CEOs of the Smart Cities that aims for cross-sharing of knowledge among the cities.
"We should expect an exponential growth in the number of works started in the Smart Cities Mission over the coming six months as more and more cities are getting into the mission mode," Puri said at the conference, held in Bhopal.
The two-day conference titled First Apex Conference for the CEOs of Smart Cities is being held in Bhopal. This is the first such conference after the launch of Smart Cities Mission on June 25, 2015. The two-day conference is being organised for providing a platform for cross learning and knowledge sharing among the Smart City CEOs on May 8 and 9, 2018. The conference seeks to enable the CEOs to learn from the experiences of all city leaders to understand in greater details both successes and failures.
Till date as many as 99 cities have been announced as smart cities so far under the mission. Each city would get Rs 500 crore as central assistance for implementation of the projects.
Puri said that about 400 projects valued at Rs 20,000 crore are in tendering stage, which would be settled over two to three months. He said that 98 projects valued at Rs 6000 crore are under implementation under the Public Private Partnership model. These had received a positive response from both big and small towns. In the last eight months, 26 more Special Purpose Vehicles have been established, taking the total SPVs to 91 and total number of project management consultants to 67.
The minister also launched an integrated control and command centre for seven cities of Madhya Pradesh in Bhopal. The command and control centre will be a common platform where all the information from various sources like city operation centres and applications will be stored. All the information collected will be analysed for better planning of smart cities.
Addressing the conference, he said as many as nine such Centres have become operational in Bhopal and work is in progress to develop Smart City Centers in another 14 cities. Tenders have been issued in 32 more cities.
"Smart City Centers are presently operational in nine cities – Pune, Surat, Vadodara, Ahmedabad, Vishakhapatnam, Rajkot, Nagpur and Kakinada. Five of these became operational in the last six months," he said.
Addressing the event, Madhya Pradesh chief minister Shivraj Singh Chouhan assured that Integrated Command and Control Centres in all the 7 smart cities in Madhya Pradesh would be established in the next two months. The Integrated Control and Command Center of Bhopal Smart City in Govindpura is the ninth Smart city centre to be operational in the country, a ministry release said.
An exhibition showcasing the different projects being undertaken by cities under Smart Cities Mission was also inaugurated.
Apart from the Smart City CEOs, the participants include representatives from municipal, State and Central Government and various other stakeholders in the Smart City Mission from the civil society, academia, industry etc. The list of invitees includes Principal Secretaries (UD)/State Mission Directors, Municipal Commissioners, Ambassadors of several countries, UN representatives, heads of multilateral/bilateral agencies, civil societies, and capacity building institutes. CEOs/heads of major Master System Indicator vendors are also invited.