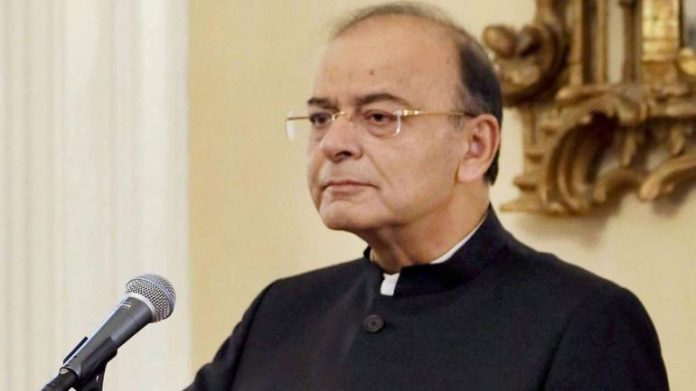 Finance Minister Arun Jaitley, in conversation with Network18 CEO – News and Group Editor-in-Chief Rahul Joshi, spoke about various schemes announced in the Budget 2018, besides issues such as the tax on long-term capital gains (LTCG).
The FM also said that rising oil prices are a worry and they raise growth and inflation concerns.
Below is the transcript of the interview.
Q: Jaitleyji, you were a minister during the Vajpayee government as well. And if we look at the biggest reforms of that government, they are the Golden Quadrilateral Project, the New Telecom Policy, the FRBM act, and VAT. So, in your term of 4 years what are your biggest achievements?
A: I think it is the fact that the Modi government has merged governance and economy into economic governance and has created credibility. The government came into power when the country was losing its credibility in the whole world. We were considered part of the fragile five. There was a policy paralysis. We were called a highly corrupt society. Some said that we as a country are incapable of making decisions. A renowned newspaper asked, 'Will the 'I'(India) fall off from BRICS?'
That is why the government decided to make decisions that are tougher. Our government sought to build the potential for making these tougher decisions. At that time, there was an economic depression in the whole world. We tried to maintain a growth rate of 7 to 8 percent. When there is a boom, anyone can progress, but when there was economic distress, we managed to progress at the rate of 8.2 percent.
Second, we used that situation well and managed to bring reforms in the country, which only experts used to talk and write about. People used to worry about how the tax base will increase in the country. We showed them how it's done. As a cash economy, we are going through a transformational time. People used to wonder if subsidies would be rationalised and if they would be for the poor. By using Aadhaar, we showed them that it is possible and made it one of the biggest yojanas in the world. People said that policy rates are decided, inflation targets are in double digits, so 4 percent plus minus targets were decided with the law in mind. By making a Monetary Policy Committee (MPC), by creating a union between the Reserve Bank of India (RBI) and the government, we made it possible.
Earlier banks were being looted, today we have brought in the creditor-lender relationship under the Insolvency and Bankruptcy Code (IBC) and changed the whole game. If you run companies like this, then the day is not far where you get thrown out of the company in a day, and someone who can do better takes over. This is the country's asset. We did not just bring in the laws, we also made it functional.
I think to suppress the country's cash economy & to head towards digitisation is a challenge within itself. Today in the whole tax department, income tax department assessments have been made e-assessments, which I legitimized in this Budget. Today, no one has to go and file their tax return, your assessment will be sent to you via email, and your refunds will be sent home.
The interaction of the tax official and the individual has been ended in direct tax; through goods and services tax (GST) we are taking all the states together. We ended 17 taxes and 23 cesses, and made them into 1 tax.
Earlier, inspectors used to go to the individual. Now, all she has to do is file her returns through a laptop, pay her tax at the end of the year and then she will receive her assessment order. No inspector will bother you, goods won't be stopped at checkpoints, no different assessments now. It is important to think of how this profit that is made reaches everyone and is used for their development.
Q: If you look at gross domestic product (GDP) growth, there was a growth of 6.4 percent and today it's around 6.5 percent. There are talks about growth till 7-7.5 percent. 4 years have passed, but we are at the same place.
A: GDP doesn't grow by 5 percent, there is a range for every economy. Look before it was 6.4 percent, it was five point something. The first 2 years we grew. In the 3rd year, we had a slight slowdown and this time, despite the effect of reforms because of demonetisation and GST, we still came down to only 6.7 percent. If you look at history, we were never the fastest growing economy. Now, we are the fastest every year and worry about slipping to second place. GDP is analysed in a global situation and during the boom period, it can grow by 8-9 percent. But this is not the situation right now in the country.
Q: According to the Economic Survey, the growth will remain at 7-7.5 percent the next year. Do you think we will ever reach double-digit growth?
A: You can reach double digits on two conditions. If your revenue base increases and if your system's spending capacity increases, then you can domestically support it. If the world's economy becomes faster or a global boom comes. If the economy is growing moderately or slowly across the world, then it won't be possible to reach double digits. China grew at 9-9.5 percent for 30 years, but now they are growing at 6.5 percent. So, if an economy like China came down to 7 percent, then it is very hard for any other economy to grow at 10 percent. It is only possible when the government is spending a huge amount of money or the economic situation of the world gets better. So I think, if we reach 8 percent, it is a good achievement for the country as no other country in the world is able to even touch 7 percent.
Q: The world economy is reviving. America's condition is also better now, can't we look at a number better than 8 percent?
A: A little aggression has come into the economy. Let's see how far it goes. People think that the world economy can go to 3.9 percent. If there is a 3.9 percent growth rate in the world economy, then emerging markets will grow faster, and in them, the Indian market will grow the fastest, and we can then look at bigger targets. The global economy has direct impact on demands and exports, and if exports increase then it will contribute to the domestic GDP. We can see that the export sector, which was in the negative, has grown towards 14-15 percent over the years.
Q: So in this situation, we can also move towards double-digit growth.
A: I can't make such a huge promise. But if we cross 8 percent then I will be very satisfied with myself.
Q: Do you see growth around 8 percent in the coming year?
A: There are certain parameters which will have to be taken into account. Some, which are known as green shoots in the language of business, like business confidence levels, PMI levels, core sector growth, and all the indicators, are good, and we need to see what happens next. Monsoon is a factor for agricultural demand. Oil prices have reached the periphery of our limits.
Q: Are you worried?
A: I want oil prices to definitely not go higher than they already are. India is a buyer and buying expensive oil will be problematic as it will directly lead to inflation.
Q: Is that your worry?
A: We definitely are worried about this. One of our eyes is on monsoon and the other on the price of oil.
Q: If oil price remains the same and if the monsoon is good, then can it go beyond 8 percent?
A: If such situations persist, our level of ambition can increase.
Q: India's GDP would have grown by 48 percent cumulatively in the last 4 years. If we look at the contribution of personal income tax during this period, it would be above 80 percent. The middle class is feeling the heat and is feeling stressed. How do you feel about this?
A: If there is one group of people who, I feel very strongly for, that is the middle class. Therefore, if you are to take this segment of taxpayer, I consistently give relief in some form or the other, within the limits of my affordability in each one of my budgets. And the reason is, as far as businesses are concerned, professionals are concerned, they have avenues for adjusting their expenditure. Therefore the compliance level there also raises question marks. But a salaried circle particularly in India, which constitutes a bulk of the middle class, the pensioners, etc, this is the honest taxpayers. The system needs to come to their rescue. So what is it if you look at this that I have done?
Q: In the last four years, if you could give us a perspective?
A: In my first year, I raised the exemption limit from Rs 2 lakh to Rs 2.5 lakh. I raised the 80c limit from Rs 1 lakh to Rs 1.5 lakh, I raised the housing loan limit deduction from Rs 1.5 to Rs 2 lakh. In my next year, I immediately raised their transport allowance from Rs 800 to Rs 1600, which is the deduction per month that they were allowed to. Then to small professional groups and business groups, I said, every professional upto Rs 50 lakhs of turnover, which 99 percent of professionals, don't maintain books for, 50 percent presumptive income and for businesses I said, 6 percent presumptive income. So, I gave them huge amount of relief through the presumptive income schemes. Lakhs of them are availing that.
Last year, I looked at the smallest category of taxpayers, Rs 5 lakhs and below and I reduced the rate to half, from 10 percent to 5 percent. So every income taxpayer in India – his tax rate was cut down – the first Rs 5 lakh the rate was cut down to 50 percent. In every year's Budget, some Rs 8000 – 10,000 crore of relief I give to this category. if you total it up – this year, even though my affordability and fiscal deficit was very tight, I have given to the salaried class Rs 8000 crore relief in terms of standard deduction what I have given as Rs 40,000.
Now, you don't have to make or fake a bill for medical, transport irrespective of how you use it, many employees don't get it. Pensioners don't use transport, they don't get reduction but they will get this Rs 40,000. There are 2.5 crore taxpayers (30 percent of the entire taxpayer base) – that is 30-35 percent will get Rs 40,000 deduction. I have recognized their contribution and given them the solution, this is Rs 8,000 crore.
To the pensioners and senior citizens, not only have I increased their avenues of investment – because they are the ones who need higher interest rates – the system needs lower interest rates but senior citizens need a higher interest rate – I have maintained 8.35 percent rate in small savings for them. LIC will give them 8 percent. The first Rs 50,000 that they will get will be tax exempted. Rs 50,000 will be medical expenses, tax exempted. Hospitalisation, Rs 1 lakh will be tax exempted. That's another Rs 4000. Even in this year's Budget, I am spending Rs 12,000 crore on this class , which is probably a little more than what would be spent on the health insurance scheme.
Q: Still, there is a feeling that the middle class has been ignored in the Budget.
A: Your community also has a role to play in that because some of the channels didn't get ground to criticize the Budget. We thought about the benefits for farmers & the poor. But now they are asking us about the middle class. If we are spending Rs. 10,000 crore in this health insurance scheme, we have also given relief of Rs. 12,000 crore to the middle class. Anchors need to look at this also.
Q.The Opposition has been saying that this government is a 'suit-boot' ki sarkar. But even the elite is complaining against this government. How do you take this?
A: I look at them as slogans. I just told you what all we did for the rural sector. If you go to some village, we are giving roads and electricity. We are giving shelter and toilets as well. I feel, that in this country, if there has been a social reform movement in the past 70 years, then that is Modiji's Swachh Bharat campaign. You can ask me why. In 3.5 years, we have reached 76 percent from 36 percent (sanitation level). We will build 2 crore more toilets this year. This not only protects the dignity of women but also works towards abolishing the caste system. Today, there are modern toilets in each household of our villages. This helps in infusing a sense of self-respect and improving the quality of life. We are giving stoves to 8 crore women, house, electricity, stove, toilet and roads- Mahatma Gandhi National Rural Employment Guarantee Act (MNREGA) funds have been increased to Rs 55,000 crore. Congress gave it beyond Rs 30-32,000 crore. After this, we worked on the scheme of 'right to food' which was the scheme of Congress era. They gave only Rs 1.5 lakh crore to this scheme, in which they used to distribute poor quality food. So from employment to food, all the pro-poor schemes that exist, we have made them effective. We have given the poor their right on the government treasury. And that is the direction in which the Modi government is moving.
Q. Will the middle class get more sops in the coming future?
A: If there are highways in the country, both rich and poor use it. Today, we have airports in tier 3 and tier 2 cities. People can also use flights for Rs. 2,500. All that we are doing has and will benefit people of all sections of the society.
Q: With higher crude oil prices and higher minimum support prices (MSP), inflation could become a bit of a headache in the coming months. Are you concerned?
A: Certainly, we are keeping an eye on it. Experts tell me that the impact of MSP would be there but not much could be absorbed. As far as oil prices are concerned, we are almost on the outer periphery of comfort and therefore, if it rises further, then of course it throws up a challenge as far as inflation is concerned.
Q: At least in the near term, the lower interest rate scenario seems to be ruled out?
A: That is a matter which RBI will decide.
Q: Contribution from personal income tax has nearly doubled to Rs. 4.4 lakh crore. Do you think the tax base has also widened?
A: I think one of the greatest successes of this government has been our campaign against black money. This has increased the number of taxpayers and this has also increased the quantum of tax that those taxpayers pay.
Q: A day after the Budget, the Sensex went down over 800 points. The sentiment has taken a little bit of knock because of the long-term capital gains tax. Also, I think there was an expectation that you will probably withdraw STT, which did not happen.
A: No, for the present, the present structure continues. I don't think I can lead to any speculation by saying that the idea of any change has not crossed our mind. After all, STT did exist even when short-term capital gains was there.
Q: Our corporate tax rate is one of the the highest in the world. The industry was expecting a cut on the corporate tax rate. Now with America settling the new corporate tax rate at 21 percent, do you think it could make India unfriendly for investment?
A: No, I had foreseen this. Therefore, three years ago, I had announced that we would gradually bring it down to 25 percent and waive off all the exemptions. Now, I have not been able to waive off the exemptions so far because there is a sunset clause in each of the exemptions and advancing the sunset clause would be unfair to the people who have set up these industries under those clauses itself. I have gradually been stepping up the number of companies which come within the 25 percent category.
Today 99 percent of the companies with Rs 250 crore turnover and below are all in 25 percent category. Our study shows that those above 25 percent category- that is a 30 percent category, there are 7000 companies left, which are in any case only paying about 22 percent due to the exemptions. So they can live with the exemptions for some time. And as the exemptions die out, and get phased out, then the scope for further expansion would always be there.
Q: So your commitment remains?
A: Of course, I am walking the talk. I made it Rs 50 crore last year and I made it Rs 250 crore this year.
Q: So we can hope that the trend continues in the coming years?
A: Yes, because I have set a roadmap.
Q: FM, you promised to give 1 crore jobs. This hasn't happened till now. So what steps do you plan to take towards making it a reality?
A: India doesn't have any authentic formal job data. In the formal sector, there are some indications which come but in the informal sector, you don't get that kind of data in India which is available. There are two significant things. One – as the economy moves fast and it grows very fast, obviously, there is a creation of jobs. And secondly, all government schemes, whether by way of taxation or bank credits, are aimed in the direction of job credit. So from the Mudra scheme to the scheme which gives a little flexibility in the textile, leather sector etc, – you try and make sure that jobs get created in those areas.
Q: The game-changing offer of this Budget is being termed as 'jumla' by the Opposition parties because you had allotted only Rs 2000 crore in 'Namocare'. Now people are saying that you have spoken of Rs 12,000 crore. So where have these additional Rs 10,000 crore come from?
A: I have left a lot of leverage for additional Budget measures this time. From a Budget of Rs 24-25 lakh crore, to take out Rs 10,000 crore isn't a big deal. I have given a provision of Rs 2,000 crore for the scheme to kick-start. But if there is a requirement for more, then we definitely will give that from the Budget. Now, I am getting Rs 11,000 crore from the 1 percent cess which we have imposed. When the long-term capital gains moves ahead, I expect to get another Rs 20,000 crore in the first year and I wish that in the third and fourth year as well. The exempted income was Rs 3 lakh 67,000 crore last year. So with the 10 percent tax, that itself is Rs 37,000 crore. If the government wants, they can add to these schemes.
Q: How many people will benefit from these schemes?
A: Today, this country has 25 crore families. The country has the entire socio-economic data. Out of 25 crore, the lower 10 crore, which is 40 percent, can be arithmetically removed. And now through the means of Aadhaar and digital technology, these people can be contacted directly. It is not necessary that every family will need to make a visit to the hospital every year. They may need to go to the hospital probably twice or thrice in their life. Earlier, whenever the poor went to government hospitals and were not provided with adequate treatment, they used to wait for the God to decide the fate of their lives. So now if we give the insurance card to this category of the poor and if our insurance scheme works out, then the premium will be given by the government. In fact, the volume will be so high that the per capita insurance is generally less.
Q: So are you trying to say that every poor man will get an insurance cover of Rs 5 lakh and this has nothing to do with government hospitals?
A: As far as private hospitals are concerned, a lot of world class hospitals have come to the country. In fact, these hospitals have surplus capacity. And see, as soon as this scheme will reflect and get executed, the business in terms of insurance will expand, along with the health care sector. Today, the hospitals of this country are getting built around tier 1 and tier 2 cities. To take these hospitals to the rural cities and districts is how the people of this country can be healthy and flourish.
Q: One criticism of this government has been that it could not kick-start private sector investment in this country.
A: But that has now picked up. Bank credit has picked up, the non-food credit has picked up, private sector has also picked up. After all, there was a global stress and the other reason specific to India was the health of the banking sector. That's also an area where we don't know how much to go further because there is a moral hazard. Some people have messed up with the companies and the taxpayer must pay for it – after all, that's what recapitalization really is. And therefore, I had to overcome the moral hazard and take a decision, and eventually cough up enough money for that purpose.
Q: Do you think bank reforms & bank recapitalisation came a little late, and could have come a little earlier?
A: It could have. Because we were making all honest efforts , the RBI was making all honest efforts to make sure through its various schemes whether restructuring etc could revive some of these companies but it looked a little too late.
Q: The Economic Survey has favoured shutting down some and merging some struggling banks. What's your take on that?
A: I don't think shutting down is an option. Mergers and amalgamation is always a good option. But that good option will have a good time for it to be exercised. You can't merge a weak bank with a weak bank and have a mega weak bank. You have to strengthen the banks first.
Q: Then, in that case, shutting down could be an option for a very weak bank.
A: No, you could merge a weak bank with a strong bank and therefore come out with a reasonably sized bank, or you could merge three banks into one. India doesn't need 30 public sector banks. Now you have 21 or so.
Q: Where do you see this settling?
A: Let me see. Our immediate priority is to strengthen the banks, once they get strengthened, of course, some of the amalgamations of some of the banks would always be there.
Q: You know the finance ministry has made it clear that it wanted lower interest rates but the central bank has not played ball. What is the relationship of the government with the RBI?
A: We have a very good functional relationship with RBI. After all we have clearly defined functions. The RBI is doing its job. There is now a monetary policy committee that is also doing its job. We recognise the areas, which are governed by the RBI. If we have a suggestion we give it to them, and the RBI takes its decision.
Q: So demonetisation was a move towards cashless society and an attack on black money – how far do you think you have achieved your objective so far?
A: I think there are 3 principal objects which were behind the move: one, to reduce the quantum of cash currency in India, where we move further. Two, to increase the tax base, where we have certainly succeeded. And three, to have much greater digitisation which was never a part of India's economic agenda- today it has become centrestage.
Q: Do you think cash has come back into the system in a reasonably big way?
A: Some cash would always remain. But today I think there are a lot of people who prefer not dealing in cash because that has its own consequences. Take organized sector of jewellery, organized luxury goods, take property transactions – starting from the film industry, which was the first to formalise itself, to the real estate industry is today formalizing itself. You see what is happening to the fly-by-night operators. The organized sector in the jewellery industry is formalizing itself. I think it's a movement. You cannot have a stick all the time. You will have to use the nudging process in order to try and get people.
This year's Budget, I have given a figure, that if we add the people who now file income tax returns after all these steps. And those who have come in the TDS network, which is indirectly in the tax network even without filing a return, is much over 8 crore now.
Q: So you said that you will achieve about Rs 1 lakh crore this year through disinvestment and have put a target of Rs 80,000 crore for next year. But you know getting one public sector undertaking (PSU) to buy the shares of another PSU is not really disinvestment.
A: The Oil and Natural Gas Corporation (ONGC)-Hindustan Petroleum Corporation Ltd (HPCL) was not one PSU buying another. This was not some last minute engineering that took place. This was announced in the Budget last year because world over, some of the biggest upstream and downstream companies in the oil sector have been coordinating, they have been acquiring each other, and therefore this is because of the business requirements of that sector.
Q: Where do you see ONGC and HPCL headed in the future?
A: I think it's a mega acquisition by ONGC and therefore it is material. It is in the larger interest of the oil sector itself.
Q: Even something like Scooters India, you have not been able to close down.
A: There have been companies which have become real estate, and therefore I think there is a list of the companies that the NITI Aayog has decided. I am sure the big one in the pack is Air India which people are looking at and we are gradually moving forward to it.
Q: Will we see some action in Air India this year?
A: I do hope so.
Q: Any others which you would privatise?
A: There's a whole list which the NITI Aayog has handed over. I've referred to it in my Budget speech itself.
Q: US has put up walls for Indian technology workers. There are discriminatory provisions for Indian companies and the cost of H1B Visas is going up. Are you worried about the rising protectionism of America?
A: I am worried because once this tendency picks up, then all countries would try and play the same game. Eventually we have seen from our Indian experience – integration in opening out has helped us. Among the various factors in the last 2 and a half decades that have helped the Indian economy is the fact that we have become more confident, we have become more open, we are open to investment, we don't think that a foreign investor is coming here to the detriment of the Indian economy. Today we see him as someone who is bringing in capital which will create jobs in India and so on.
Q: But then how do we react to this situation? For instance, China has banned Google and Facebook in favour of Baidu and WeChat. But don't you think we could also look at some such measure?
A: Have we reached a stage for these kinds of measures or not? I don't know because we haven't applied ourselves really to it because India has not been thinking on these lines. We must also remember we are one country in the world. Because of our large population and our large human resource and talent that we have, we sent a very large contingent of Indian expatriates almost everywhere in the world. Therefore, if you saw the cricket match in New Zealand, you found more Indians watching it.
Q: No I was only talking about it from the reactionary point of view because we are facing trouble in the US could we do something, some counter measures?
A: I don't think India has thought on these lines at the moment.
Q: Apart from being the Finance Minister, you are also a senior cabinet member, you are close to the PM, I have some political questions. In the recent past this proposal was made of both Lok Sabha and Rajya Sabha elections being held together.
A: It is highly unlikely.
Q: So are you saying this idea wouldn't be thought upon?
A: See, the government wants that the elections take place together, but the date will be not be advanced. That is not necessary.
Q: You don't feel that elections will happen in November- December with the state elections?
A: No, I don't see that happening.
Q: Can it so happen that the state election dates are pushed back?
A: Constitution doesn't give us that approval. Till the time the constitution doesn't change, till the time people agree upon it, till the time things don't overlap.
Q: Modiji and Amit Shah belong to the role model state according to you. Did you hope that you could win more than 150 seats, when you won 99 seats in reality? Do you feel the public sentiment is changing? What do you think is the reason?
A: I feel there was a setback in one region. We won in urban Gujarat. In the rural areas – in the south, central and north – our performance was good. In Saurashtra, the farming situation was such that it became a setback for us, and our seats that reduced by 10-15 percent were for that same reason.
Q: Even in the by-elections in Rajasthan.
A: This is a topic of concern for us. I spoke to the Chief Minister (CM) and I told her, and she is examining as to what went wrong. There were some emotional reasons as well, and if there's a need for betterment then definitely the party is looking into it.
Q: This year, there are 3 big state elections-Karnataka, Rajasthan, Madhya Pradesh (MP). In Karnataka, Siddaramiah is fighting hard. In Rajasthan and MP, there is an anti- incumbency factor. How confident are you?
A: Right now, the first elections are in Karnataka so we are concentrating on it. We will win in Karnataka no doubt about that.
Q: There are open fissures that have emerged in the judiciary. What are your views on that?
A: I think this is not the first time that this has happened. It does not happen very often. But I have great faith in our institutions and their resilience. I am quite sure that they are competent enough to resolve it themselves.
Q: In 2014, your party had a historic mandate. What is your prognosis for the 2019 elections in the big states like Uttar Pradesh (UP), Rajasthan, Madhya Pradesh, Gujarat where you have won seats (in 2014), but the chances of winning more is less this time, and the chances of losing more is greater?
A: There will be many states where we will gain a lot.
Q: Like?
A: We can gain in Odisha, West Bengal. Those states from where we didn't win many seats. In the north-east our party is gaining momentum. Modiji has presented a corruption-free government, and with the kind of performance our party has given, I am sure we will win the next elections on the basis of our performance.
Q: Most of your allies are also not happy with your party. Chandrababu is not happy with the Budget, the Shiv Sena is saying they want to fight the elections alone.
A: Maharashtra's issue is different. The implementation of Andhra Pradesh reorganisation act is being done. It has nothing to do with the budget directly. The package is not implemented on the basis of the Budget.
Q: You feel you will be able to convince them in the time to come?
A: Yes sure, what we promised to the people of Andhra Pradesh will be fulfilled.
Q: What is the problem with Shiv Sena? Do you feel they will fight elections separately?
A: I would want the National Democratic Alliance (NDA) government to be united. Last time the assembly election was fought separately by all of us. There was a spat with the Shiv Sena on the allocation of seats. Shiv Sena wanted to be the senior partner and I know for a fact that we were ready to give them the senior partner's post and also give them extra seats. But they couldn't recognise the reality of their limit. We fought separately and then we won enough seats without the Shiv Sena.
Q: Do you think if elections are fought separately, you will benefit?
A: I am not saying that. I would want the NDA to be intact and all our allies to be with us.
Q: Recently we have seen mobs indulging in violence, damaging property and India's reputation. Why do you think there is this rising intolerance in the country?
A: To say there is rising intolerance in the country is an unfair statement. There could be stray instances. Now because we are in the world of communication, where even a small incident gets highlighted, and understandably so. But I think any kind of violence or unruly conduct itself can't be accepted in a democratic system.
Q: If you could do something different today as FM, looking back four years, what would it be? Is there any regret you have?
A: I think the only regret you have is, what you are doing you want to do, and you want to do it much faster. Because just as India is becoming impatient, that impatience impacts us as well. It impacts me personally as well. And we would like to see, for the first time in history, that India sees an opportunity for itself in the world, to truly become a global leader. After all, the satisfaction of India being such a fast growing economy, being recognised at various international forums, being given a place on a high table in every international get together, we would like to get rid of the curse of poverty and see India transform into a developed country as soon as we can.
Q: We have seen you as the FM and as a great leader of this country, we have seen you as a legal luminary. But not much is known about the personal side of Mr Jaitley. We know you as a cricket and a food lover. But what excites you in your day-to-day life?
A: I lead a very normal life in the sense that, besides politics, I have a commitment to my family and my children. I deal with my close friends, I pursue what my passions are.
Q: What are some of them?
A: There are some which you don't have time for. I don't take vacations now, I used to enjoy travelling. Now I only travel for brief periods for work. I listen to some old music. I watch sports. I can't go to the stadium. So I watch it on television whenever I can.
Q: What kind of music?
A: I listen to old Indian music.
Q: Courtroom or Parliament- what really tests your sharpness more?
A: I have enjoyed both. To be fair, both are great institutions of the Indian democracy and I think both have a huge amount of resilience. That is why I told you, this present challenge in the Indian judiciary. I am not worried about because I know it is a resilient institution, it will get out of it. Parliament, I can tell you, is a great forum. You get to learn a lot about India. Unfortunately, what gets projected is only the song, noise and dance in parliament. But the seriousness of some of the debates that takes place in parliament, I think, itself is also exemplary.
Q: Who's your inspiration? Who is Arun Jaitley's hero?
A: I have no personal heroes in that sense. When we were young, we looked at tall leaders of various shades, and I have seen from my student days a very large spectrum of political leadership of India. From Jayaprakash Narayan to Morarji Desai to Vajpayeeji to Advaniji, we have worked with all of them. And there is something in a large number of them that you get to learn from.
Q: Who influenced you the most in your political career?
A: In politics, frankly when we were growing up within the BJP, Mr Vajpayee was our tallest leader. Therefore, his ability to even rise above the party and think of the country is something that always inspired us. In organisational matters and in formulating policies, we worked very closely with Mr Advani and therefore the kind of etiquette and ethics that he practiced, and the attitude and approach he had, we learnt a lot from it.
Q: Any Opposition leaders?
A: I have been amongst those who were on the other side of the fence. The person in Parliament who impressed me the most was Dr Pranab Mukherjee and I have always said on record, that in the generation I have seen, Mr Vajpayee and Mr Mukherjee are probably the two most charming politicians that I knew.
Q: You lead a stressful life. How do you unwind?
A: The only recreation I get now is to walk early in the morning and maybe some friends join me once in a while for that.
Q: What would you like your legacy to be? How would you want history to remember you?
A: I think it is important, if you are in politics, to have credibility and consistency. That is extremely important.